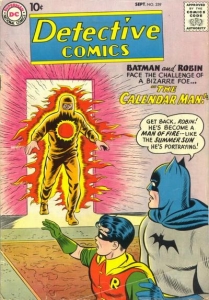 Detective Comics #259, DC Comics, September 1958
What if there was this cool premise for a villain, cool and full of potential and what if it came to nothing. What if this villain's canon was so bad that a site like IGN voted this villain Batman's worst villain of all time?
Welcome to the world of Julian Day a.k.a. the Calendar Man, the character introduced in this week's Undervalued Spotlight pick Detective Comics #259.
I for one use the Julian to dictate my moveable feasts so I like the use of Julian as the first name for the Calendar Man, Gregory would have been so… today. Anyway Julian Day was obsessed with dates, so obsessed he went mad. And thus the premise for a villain that plans his crimes to have relationships to the dates he commits them.
In Detective Comics #259 Calendar Man tries to outwit Batman by committing crimes based on the seasons, I'm sure Vivaldi was playing in the background. Truth be told this is one lame ass issue. Just look at our villain's Spring and Winter crime attire. No wonder IGN ranked him the worst!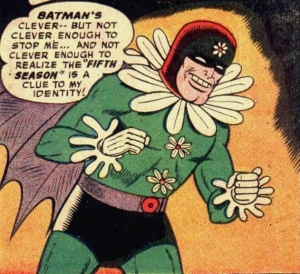 But that's the point of this Spotlight. The whole thought of a twisted mind using the calendar to guide his crimes can be scary as heck. The real life Zodiac Killer that struck California in 1968 proved just how scary.
Did you know a 1967 episode of the Batman TV show was called "The Zodiac Crimes", it featured the Joker though and not the Calendar Man.
It didn't get much better for Calendar Man after Detective Comics #259. He surfaces again about 21 years later in Batman #312 (June 1979). This time around his crimes were based on days of the week and his costumes reflected the old Roman gods the days were named after. Gah.
In 1992 Calendar Man teamed up with Catman and Killer Moth to form the Misfits, a group of also-ran villains that go up against Batman in Shadow of the Bat #7-9 (1992-1993).
Writer Jeph Loeb did try to tap into the potential of the Calendar Man premise in The Long Halloween storyline. In the story the Calendar Man is portrayed as a Hannibal Lecter type, offering insights into Batman's search for a serial killer who used holidays to frame his killings. In the story the Calendar Man knows who the killer is but only offers up cryptic clues to Batman.
I think Loeb was going in the right direction and it's too bad we haven't seen more.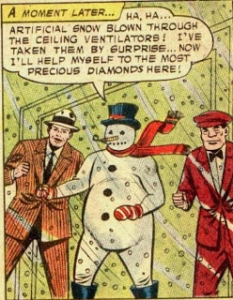 Surprisingly there have been no recorded CGC sales over the past 3 years of Detective Comics #259, the issue used to get about Guide back in 2012 but I have a feeling the next high grade copy to hit market will go for some good money.
So here I offer up a cool book, it is in that late 50's DC era so sought after right now, it is elusive yet I've seen many copies over the years, it offers a character laughed at and ridiculed while at the same time it offers a character that could be so much more. I think it's a good find in any grade but stick to 8.0s or better for the biggest bang for your buck.
45th Overstreet price breaks for this book are $265/$450/$635 in the 8.0/9.0/9.2 grade splits.
Strengths that make this comic a good investment are:
First appearance of the Calendar Man
Ranked Batman's worst villain of all time by IGN
Late 50's DC's are undervalued