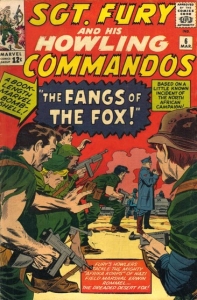 Sgt. Fury and his Howling Commandos #6, Marvel Comics, March 1964
The Spotlight is a forum to express views and opinions on comics, on their values and their collectability. Inspiration for my picks range from random stabs of nostalgia to potentially influential corporate announcements to sentimental memories of romance to outright experimentation. Sometimes the picks are grounded in strong fact and sometimes picks are just fun flights of fancy. This week I thought it fitting to try and find a book that embodied tolerance and acceptance.
Stan Lee really was the man in the early 1960s. Stan's Marvel Revolution was underway thanks in large part to bold changes to the way comic stories were told. Lee, Kirby, Ditko et al were revolutionizing the medium.
This week I want to focus the Spotlight on an early and much overlooked example of Marvel's push towards a tolerant inclusive future. This week's Spotlight pick is Sgt. Fury #6.
I read that Stan Lee was influenced by DC's Our Army at War #113, the 1961 DC war book introduced black soldier Jackie Johnson to the Easy Company, fighting alongside Sgt. Rock. Actually U.S. Army unit integration didn't happen until the Korean War so DC showed foresight and did a little history retcon.
When Stan was picking his line up for his soon to be launched war title (war titles were widely read in the early 1960s and if anything was a gimme it was Stan Lee's new Marvel launching a war title) he took a cue from DC and introduced Howling Commando Gabe Jones, a black soldier, as part of the Howling Commandos starting right off with issue #1.
What makes Sgt. Fury #6 special and worth having in your collection is the subject matter.
In Fangs of the Desert Fox, a 23 pager that has the Commando's ordered to attack German Field Marshal Rommel, Stan Lee wrote a strong story that exposed bigotry and championed tolerance and acceptance. In the story Howler Dino Manelli (Italian origins) is injured and can't go on a mission. His replacement is George Stonewell who hates Dino for being a "foreigner", hates Gabe Jones because he's black and can't stand fellow Howler Izzie Cohen because he's Jewish. The chances of survival on such a mission were bleak at best, having mistrust, intolerance and bigotry in the ranks would make the mission a one way trip.
We must remember that Lee was writing under the constraints of a Comics Code Authority that did not allow the story to overtly state the obvious, that Stonewell was a racist and a bigot. The story is written in a way that complies with the restrictive Code rules all the while delivering the message clearly and with conviction.
Aside from maybe #1 early Sgt. Fury's are pretty stale commodities. High grade copies get just above guide at best but most of the time you can find them for below guide.
I think Sgt Fury #6 would be a great fit for any collection, it is a comic that championed progressive social change when it wasn't cool to do so. Yes the story is rooted in a historical context but it tackles universal and timeless themes that are relevant today.
The 45th Overstreet price breaks for this book are $105/$230/$360 in the 8.0/9.0/9.2 grade splits.
Strengths that make this comic a good investment are:
Strong social statement
Historical context but universal and timeless themes, the book is a marker