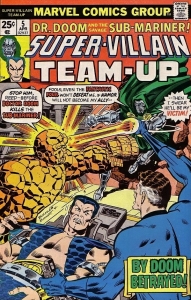 Super-Villain Team-Up #5, Marvel Comics, April 1976
Earlier today I rescued this comic from my $3 bins. The problem is I don't think I even had too, it was in there a few months, and at least two cons, easy.
It felt wrong that I found this book in the bins, I remember making the call to put it there thinking that it would be one of the first to go, that it would get guys excited about what other gems they'd find in those bins. A feeler, if you will.
Picking up the book I knew Super-Villains Team-Up #5 was going to be my Undervalued Spotlight for this week.
The whole Super-Villain Team-Up run always appealed to me but sadly it didn't appeal that much to anyone else. I'm often way too ambitious when I price up a nice tight copy of a #1 or of one of the Giant-Size issues. I don't think I overprice them, it's more like I price them aggressively in relations to Guide because I think the Guide, and the Market for that matter, is wrong! So far my optimism hasn't found any takers.
Sadly I can't afford to wait the market out on all of these and I've been putting the run issues in my bargain bins for a few years now. Well I'm officially adding issue #5 to the list of books that deserves a more dignified fate than the bargain bins. I'm going to leave a spot on the wall between #1 and Giant –Size #1 for a crisp clean copy of #5.
Super-Villains Team-Up #5 features the first appearance of The Shroud, a character who's been surprisingly everywhere in the Marvel Universe lately.
Like Bruce Wayne, our young Maximillian Quincy Coleridge (who later becomes The Shroud) saw his parents killed right before his eyes. He decides to devote his life to crime fighting. Just jump on to one of the Marvel profile sites and read up The Shroud's history, team affiliates and associations include Spider-Man, Avengers, West Coast Avengers (where he was offered founding member status but refused), Doc Strange, Daredevil, Moon Knight, Werewolf by Night, Spider-Woman and practically everyone else. He started up and strung along the very cool Night Shift team (all villains that assume he is a villain too) and he fought alongside Captain America in Civil War. This guy is everywhere.
I'm intrigued by his connections with Luke Cage and Daredevil. His Martial Arts training line him up with Iron Fist. The Shroud is a perfect fit for the gritty world of Netflix's Hell's Kitchen.
There's not that many of these things graded, for example the last CGC 9.4 tracked by GPA sold 6 years ago for $17. A CGC 9.8 did recently sell for $150. You should be able to find crisp high grade ones raw still, those would be the ones I recommend you go after.
The 45th Overstreet price breaks for this book are $14/$19/$24 in the 8.0/9.0/9.2 grade splits.
Strengths that make this comic a good long term investment are:
First appearance The Shroud
Way too cheap in the Guide