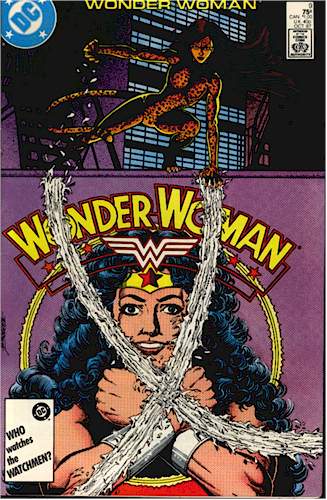 Wonder Woman Volume 2 #9, DC Comics, October 1987
Thank goodness for Undervalued Spotlight guest writers. Once again they save my bacon, this time past Spotlight contributor Carey comes through with a little gem. I was honestly just finishing up the pick I had for this week when I realized I messed up, it was too much to redo so I went to my reserve folder and found this. It was like finding a bag of Sour Cream and Onion chips you'd forgotten about while you watch a movie late at night. Just like that. Scott will still be mad because he hates me missing deadlines but I know this post by Carey will cheer him up, and I know you'll appreciate it too. Trust me it's way better than the drivel I just gave up on. Let's turn things over to Carey:
Building on my previous pick, this week's pick is also a major Wonder Woman villain; as a matter of fact, she is arguably Wonder Woman's biggest villain. This week's pick is Wonder Woman vol. 2 #9, the origin and first appearance of the modern Cheetah.
The Cheetah has had a long and storied history as one of Wonder Woman's main antagonist and there have been a number of different incarnations of the Cheetah over the years; however, there are only two incarnations of significance, the original Pricilla Rich version and the modern and current Barbara Minerva version.
The original Pricilla Rich Cheetah first appeared in Wonder Woman vol. 1 #6 in 1943. She was a socialite with a  split personality disorder who becomes the Cheetah after seeing her evil inner self in a mirror like William Dafoe in the first Spider-Man movie. However, this version of the Cheetah had no superpowers, but merely a cheetah costume fashioned from a cheetah skin rug. This version of the Cheetah  garnered mainstream publicity through the Super Friends cartoon in the 70s and 80s as a member of the Legion of Doom.
The modern and current Cheetah is Barbara Minerva. She's an archaeologist who is obsessed with Wonder Woman's lasso and was transformed into the Cheetah through a ritual while searching for a lost city in an African jungle. She first appears in Wonder Woman vol. 2 #7 in 1987 but is transformed into the Cheetah in #9. This version of the Cheetah is more mythical, sort of a half woman half cheetah creature and has superhuman strength, agility, enhanced senses and claws. This version of the Cheetah has been used in more recent Justice League cartoons and video games.
The Cheetah is widely considered Wonder Woman's top villain and while both versions of the Cheetah are popular, the current version is now almost 30 years old and is gaining traction as the definitive Cheetah. While it looks like Ares and the Circe are the planned villains for the Wonder Woman movie; barring an epic flop of Green Lantern portions, I can't imagine there only being one Wonder Woman movie, in which case, how could they not use Wonder Woman's greatest villain in a future movie? As to which version, my money is on the current more mythical version that will look great on the big screen with all sorts of special effects over the woman that looks like she's wearing children's pajamas.
The 45th Overstreet price lists both of these books at $5 in the 9.2 grade.
Strengths that make these comics a good investment are:
First appearance and origin of the modern Cheetah
Nice George Perez art with the Cheetah prominently featured on the cover
The Cheetah is Wonder Woman's top villain
Can be had for next to nothing, for now