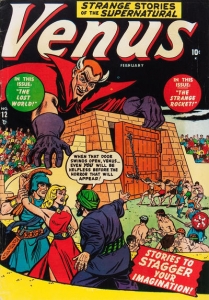 Venus #12, Marvel Comics, February 1951
First off I'd like to thank Mike Huddleston for starting the discussion on these books. Mike is a fun guy to talk to at all times but never more fun than when we talk hockey and comics, girls and fishing usually get honorable mentions.
I thought long and hard on this one and in the end I decided that this week's Undervalued Spotlight should shine on Venus #12 featuring Thor's 1st Marvel appearance, the book also features and appearance by Loki.
Venus #12 won out over 2 other comics I was considering namely Venus #6 (August 1949) and Sub-Mariner #57 (January 1973). Venus #6 first features Loki, while Sub-Mariner #57 features Venus' first appearance since April 1952.
Of the thee books Sub-Mariner #57 is by far the most affordable and the most attainable.
Venus #6 boasts Loki's first appearance and thus it could be argued that this issue is the one that led to all the others.
Like girls and fishing these two books deserve honorable mention this week so lets let them share some of the Spotlight's glow. Truth be told that 1968 Subby run needs all the glow it can get, talk about slow…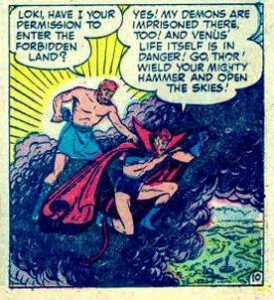 I found a couple threads on the web arguing the whole Thor in Venus thing. My stance is that Journey into Mystery #83 is the 1st Donald Blake Thor, the origin explained and the whole Marvel-616 continuity thing. I'll buy into that and let JIM #83 carry the mantle. I should also note that the Marvel wiki lists the Loki and Thor appearances in Venus as 1st appearances Golden Age, the modern versions are the only ones recognized as 616 Marvel Universe continuity though.
I do think we owe a bit more to Venus #12, there are very few sales of this book as there are only 12 graded copies as of this post. I'm hoping some renewed interest in it will flush out some more copies allowing more collectors the chance to own a very important comic.
For me the most intriguing fact is that Stan Lee wrote the 12 page "Trapped in the Land of Terror" story that all the fuss is about. The characters swam around in his head for a decade until he woke up in a cold sweat one night in 1962 and screamed Excelsior! – I may have made that last part up.
Gene Colan also features in Venus #12 pencilling and inking a 4 page Venus story called "The Strange Rocket" featuring the 1st appearance of the dreaded Fish-Men.
Any way you slice it Venus #12 is a must have, the only problem is going out and finding one. If the hunt is proving fruitless and the whole thing has got you down find yourself a nice tight copy of Sub-Mariner #57, it will dull the pain.
Yes and I'd also like to mention that I love that Kirky-esque looking cover. Kind of reminds me of a lot of those Monster covers Kirby would be drawing in several years' time.
The 45th Overstreet price breaks for this book is $371/$636/$900 in the 8.0/9.0/9.2 grade splits.
Strengths that make this comic a good long term investment are:
First appearance Thor in Marvel (Atlas Comic)
Written by Stan Lee
Gene Colan art in 4 page "The Strange Rocket" story