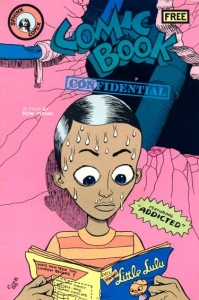 Comic Book Confidential #1, Sphinx Productions, 1988
This week the Undervalued Spotlight shines on Comic Book Confidential #1. We can thank Spotlight fan Mel Taylor for this one. Mel's write up is excellent and it has me convinced this is a book worth hunting down and picking up, my copy has to be crisp and tight of course. I think perhaps you need some convincing so I'll turn things over to Mel…
I just finished watching Ron Mann's Comic Book Confidential for the gazillianth time (hey, we didn't have Lost Heroes until recently), and I have to admit, for all the anticipation I remember Canadian comics fans having back in 1988 when the film was coming out, for the most part we were disappointed as fellow Canucks.
Canadian content in the film consisted of a single shot each of the covers of Cerebus #1 and a copy of Canadian Heroes from the Golden Age of Canadian Whites, when we ruled our own newsstands, as well as a couple of short clips of the Silver Snail and This Ain't the Rosedale Library (if you are among those who recall such venerable institutions in their heyday). Bear in mind that this was in the days of Colin Upton, Julie Doucet, Chester Brown, Dave Sim and the ever-persistent Richard Comely, and long after the publication of The Great Canadian Comic Books. I guess I'm still essentially disappointed.
But, as an aside…you remember asides…at the time the film came out there was a promotional comic book given out at theatres, as far as I know, only in Canada. As you might well imagine many of them may not have survived the hail of popcorn and sticky stuff in that environment.
Freebies are generally treated with less than care in the realm of what some might call collectibles. It's entirely understandable. Just don't lend those people any of your books. At any rate, a few years ago I actually persuaded the Overstreet Comic Book Price Guide to list the Comic Book Confidential freebie in their promotional section. Yes! You can actually change the guide. In fact, they encourage it. I had never seen the book for sale. They put five bucks on it. Still there. Go look. Anyway, now the latest Fogel's Underground Price Guide lists it at ten bucks.
The real kicker is that this baby has a cover and a splash by our own Chester Brown, as well as a charming story at the end by later Sandman Mystery Theater artist R.G. Taylor, a Fergus, Ontario native. But, seriously, apart from that, and a Canadian production team on the film, with comic consultant bp Nichol and Mark Askwith, don't go looking for much Canadian content.
The book is largely filled up with short bios of all the people (mostly American) interviewed in the film, including Jack Kirby, Will Eisner, Bill Gaines, Robert Crumb, Art Spiegelman, Frank Miller, and many more great luminaries of our favourite medium, so if you just plain love comics, I know you will sit through the whole movie and thoroughly enjoy it. Oh! And, if you see the comic for anything under twenty bucks, pick it up! And, remember, you heard it here first. And no, I won't sell you mine!
Comic Book Confidential (the comic) Vol. 1 #1 was a one shot promotional comic published in 1988 by Sphinx Publications, Ste. 310, 19 Mercer St. in Toronto.
The 45th Overstreet price breaks for this book is $5 in the 9.2 grade split.
Strengths that make this comic a good long term investment are:
Cheap, Cheap, Cheap
Obscure and suffering lack of awareness, but that will change