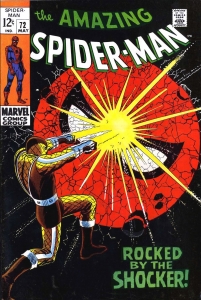 Amazing Spider-Man #72, Marvel Comics, May 1969
It's crazy times in the collectible comic book market. Prices are hitting records on multiple fronts, in multiple genres and in multiple eras. You pretty well need a loan to buy any comic of note these days and it's predominantly first appearances that all the money has been rushing into.
There's nothing wrong with valuing first appearances as that's where most of the value should come from, in my opinion, but other factors should temper these crazy prices we are seeing. For example scarcity of grade (or maybe better put – plenitude of grade) should be considered and weighed way more than it is.
This week I thought I'd take a reprieve from the madness and try to offer up a book with good fundamentals, good value and good prospects for the future.
This week I'm choosing to shine the Undervalued Spotlight on Amazing Spider-Man #72.
"Rocked by the Shocker" features a fantastic John Romita cover, for me one of the better covers of Romita's run. This issue sets up the "Secret of the Petrified Tablet" arc that ends in issue #75.
Yes, character introduction is the main driver of value but it's not the only one. Covers sell comics and covers create demand for collectible comics, there are many examples great demand for outstanding covers. Amazing Spider-Man #72 delivers a dynamic and great looking black cover, black covers give high grade copies great eye appeal, black covers also make high grade copies harder to find.
Amazing Spider-Man #72 is also embedded in what is probably the most collected run in comics, Amazing Spider-Man #1-129. Of all the titles in comics this is the title most of the collectors I deal with still collect. Amazing Spider-Man #72 came out in May 1969 making it a 60s Marvel, another collecting strain still active.
Market prices for high grade copies of this book haven't really moved in a decade, I don't have the data in front of me but I'd guess they have actually lost ground. GPA shows CGC 9.2 copies getting 10% below Guide. So you are getting a black cover, Amazing Spider-Man from the 1960s with a great Shocker cover for less than Guide and less than $200.
I think there will be a reawakening of comics like this; you can throw in issues like Amazing Spider-Man #62 and #66 as well. When comparing what $200 can buy elsewhere I predict it won't be long before books like this find favor again.
The 45th Overstreet price breaks for this book is $66/$138/$210 in the 8.0/9.0/9.2 grade splits.
Strengths that make this comic a good long term investment are:
Great cover, black cover, great villain, great title, great era