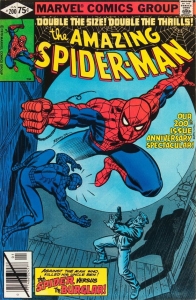 Amazing Spider-Man #200, January 1980: The Spider and the Burglar… A Sequel.
Cover by John Romita Sr., pencils Keith Pollard, inks Jim Mooney. Story by Marv Wolfman and special guest writer Stan Lee.
Sometimes a good buy can be right in front of you hidden in plain sight. Our Undervalued spotlight today is a good example of that. I see Amazing Spider-Man #200 at comic shops quite often. Dealers love it. I see copies at cons, on the walls, in the bins, and in customer's hands. I owned a copy myself for years, a really solid book with many fine attributes. Thirty-five years on it's still a bargain. Must mean it's time for the Undervalued Spotlight treatment.
Amazing Spider-Man #200 has a lot going for it. To start, it is a double-size, square bound anniversary issue. By 1980 when this was released these square bound beauties only showed up for special occasions.
This book also sports a beautiful cover by long time Spider-Man artist John Romita Sr. as only he can draw him, and a stirring final page (more like an epilogue) by Stan Lee as only Stan can write it.
On top of that and most importantly we have a sequel to one of the most important comic books of all time Amazing Fantasy #15 the first appearance of Spider-Man.
I am not going to get too deep into the story itself, if you already own it you know the story, if you don't I won't spoil it for you. The story features the return of the Burglar, the man who shot Peter Parker's Uncle Ben. There are revelations, hidden loot, flashbacks, and reconciliations. Most importantly is the battle between the powerless Spider-Man and the still nasty Burglar. And yes I will say the Burglar gets his comeuppance in this well told story.
This book fits nicely in anyone's Spider-Man collection. I like it best as a starting point for Amazing Spider-Man fan's just starting out who still want to collect the guy. There are still people who want to do this; I see them at bargain bin's all the time. Collecting a run from Amazing Spider-Man #200 up is easier on the pocket book and there isn't a lot of heavy lifting to complete a run (#252 &300 not withstanding) and a lot of good reading.
As an investment I would go for the best unslabbed copy I could find. There are 9.8's slabbed and I have seen them go anywhere from $125-200 and everything in between. Whatever you do look for a clean square bound edge. Many of these type of square-bounds have a nasty little pinch in them.
45th Overstreet prices are 8.0 $21 / 9.0 $33  /9.2 $45.
Strengths that make this comic a good investment.
Double size, Square-bound Anniversary Issue.
Solid story connected to Spider-Man's most important book Amazing Fantasy #15
Imbedded in Marvel's most collected title.
Features a nostalgic return of Stan Lee & John Romita Sr.