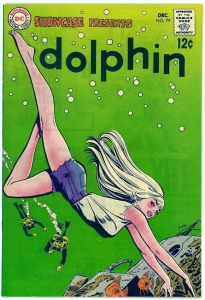 Showcase #79, DC Comics, December 1968.
I checked out that Batman V Superman film recently and I liked three quarters of it. If DC/Warner ever figures out a way to avoid 30 minute long over melodramatic Superman death scenes it could actually make some good movies.
For some reason I really liked the little clip of Aquaman: it was the perfect little teaser and it left me hopeful they will do the character right. Now I know that one pocket full of hope and another pocket full of nickels will buy you a cup of coffee but the clip left me with a positive outlook nonetheless.
This week I'd like to shine the Spotlight on a character that I think will benefit greatly from an Aquaman done right. This week's Undervalued Spotlight pick is Showcase #79 featuring the first appearance of Dolphin.
The Dolphin is actually a young girl that fell overboard during a cruise and was saved by some aliens and experimented on to the point where she adapted to living in the ocean. Over time she came into contact with civilization and eventually she came into contact with other super beings including Aquaman.
Dolphin and Aquaman had a romantic history: she was Aquaman's lover until Mera returned from her exile in the Netherworld. In an awkward turn of events she became romantically involved with Aqualad, with Aquaman's eventual blessing! Aqualad (then going by Tempest) and Dolphin went on to have a son who was given the name Ceridian by Aquaman.
I know it's just a quick little recap but it does show just how rooted this character is in Aquaman's world. I fully expect Dolphin to play some role in Aquaman's upcoming conquest of cinema and popular culture.
Dolphin has lots of potential in my view: she was created in the late 1960s and as a character unto her own, not some sidekick. Today female characters are doing so well; time to dust this one off and develop all that potential.
I swear you could not give this book away 5 years ago and now you can't even find one to buy. As of this post there were none available on the GPA text links, though I did find one CBCS 9.2 available on eBay.
This comic is still around and in good numbers in established dealer's Silver Age bins. Do some digging at cons and established comic shops and you'll find yourself some nice copies.
The 46th Overstreet price breaks for this book is $37/$66/$95 in the 8.0/9.0/9.2 grade splits.
Strengths that make this comic a good long-term investment are:
First appearance Dolphin
Significant yet little know character that would benefit from media exposure