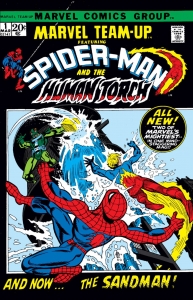 Marvel Team-Up #1, Marvel Comics, March 1972
I finally watched the Captain America Civil War movie. I liked it. My favorite scene was Tony Stark and Peter Parker in Parker's room. I loved this take on Parker and Spidey. Just as entertaining were Spidey's fight scenes during the hero versus hero battle. I loved the banter, the annoyance of Spidey's friends and foes, the whole thing did a great job of transporting me back to the days when I loved reading Spider-Man.
The movie got me thinking about Spidey's interplay with the other heroes in the Marvel Universe, these weren't Spidey villains, these were a bunch of other heroes we all know and love. The interplay is different and when done right it's very enjoyable to watch.
Somehow the whole thing inspired me to choose Marvel Team-Up #1 as this week's Undervalued Spotlight pick.
Team-Up books were nothing new when Marvel Team-Up started in 1972, DC had Brave and the Bold and its Batman team-ups running past 100 issues by then. But what Marvel and more specifically Marvel Team-Up did better than anybody was parlay the chummy quips, the timing and humorous banter into something fans really loved. I know I did.
When Marvel Team Up was published most of Marvel's heroes were not even 10 years old yet, Spidey wasn't even 10 yet and the way Marvel Team-Up was written with Spidey co-starring with other Marvel stars had a great influence on furthering along the whole "Marvel way", Marvel was not done innovating. We can look to the Marvel Team-Up run as a template for the way Marvel writes today and for the way they portray the on-screen hero interaction Marvel is doing so well with these days.
I feel like I'm not saying this right but Marvel Team-Up made Marvel better: it was an innovative title that took the company's best characters, brought them together in a way that created deeper, more layered characters.
And though Stan Lee planned the Team-Up title to rotate through multiple anchors including Human Torch and Hulk, it was clear early that this would be a Spidey title. It's kind of the second Spidey title the way I see it, pushing 1976's Spectacular Spider-Man to 3rd.
The great Gil Kane cover delivered in that uber collectible square box cover style of the early Bronze Age make this comic quite the eye catcher, especially in any kind of grade.
The most recent sales have been flat with results coming in below Guide. A CGC 9.2 earned $239 earlier this month while a CGC 9.0 got $175 last month.
This book is super scarce in the very high grades, that tough black cover makes 9.6s and 9.8s almost impossible. As of this post only 13 of the 649 Universally CGC graded copies come in at 9.6 or better. Stick to grabbing a nice crisp, tight and well centered 9.4 or 9.2, they are bargains at these prices.
The 46th Overstreet price breaks for this book are $83/$182/$280 in the 8.5/9.0/9.2 grade splits.
Strengths that make this comic a good long-term investment are:
Unofficial launch of Spider-Man's second title
Great template for the "Marvel way" of hero interaction