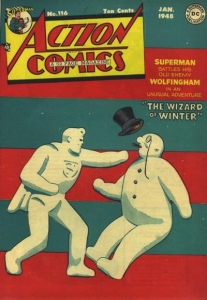 Action Comics #116, DC Comics, January 1948
We haven't visited the early Golden Age in a while and when I came across this beauty I knew what I had to do.
In long running titles collectors tend to focus on the books with 1st appearances, cross over appearances by other heroes, major villain appearances and of course prominent covers. An obvious example of a prominent cover of an Action Comics in the late 1940s is the Atom Bomb cover on issue #101. A not so obvious example of a prominent cover is this week's Undervalued Spotlight, Action Comics #116.
Perhaps I should say, a soon to be prominent cover. Just look at it!
I'm positive this cover will differentiate itself as a cover to have in the not to distant future. It's simplicity is refreshing, it's surreal and it is totally unique in the Action run.
The cover is a lead in the the 12 page Superman story "the Wizard of Winter" written by Don Cameron and penciled by Ira Yarbrough, very befitting the December issue.
Sitting snugly in the early part of DC's 1947-1953 "scarce era" this book is not easy to find. There are only 20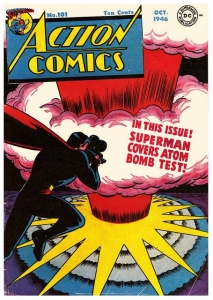 graded as of this post but I'm sure this is more due to the fact not many collectors are sending this issue down, Action #101 has 48 graded by comparison. You will find this book though, raw on eBay or in bins of some of the older dealers at the Cons.
The Guide doesn't think much of Action Comics #116, grouping it in with a group from #103 to #120, excluding #108 which gets noted for its strong molten metal cover.
There's only been one recent sale, a CGC 6.5 last June for way less than guide, a bargain at $287.
With the 1st appearance keys and the prominent villain covers pricing themselves out of most peoples budgets then next big wave of market discovery will be long neglected covers. Action Comics #116 is one such long neglected cover.
The 46th Overstreet price break for this book is $538/$919/$1300 in the 8.0/9.0/9.2 grade splits.
Reasons to buy this comic book as an investment.
Fantastic off beat cover
Scarce late 40s era of DCs