Giant-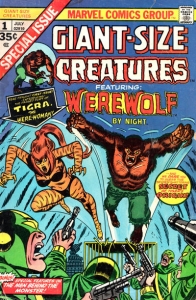 Size Creatures #1, Marvel Comics, July 1974
Recently I did a small con and didn't have a lot of room on my table. I had to lose some bins so out went the Sgt. Fury section, the Harvey Comics section, the Dell photo cover and Westerns section as well as the Giant-Size section. I didn't want to pull out the Giant-Size section but something had to go to make room and it certainly wasn't going to be the runs of Amazing Spider-Man and Batman. I removed these Bronze Age gems under protest.
You can't get more Bronze Age that the Marvel Giant-Size series. The series was nestled thick in the middle of this era and from May 1974 to December 1975 Marvel put out 69 issues (my count) in over 27 Giant-Size titles (again my count).
There was a great "Bronze Age" aesthetic to all the Giant Size covers, all the titles are either single issues or bite sized runs. The whole Giant-Size series is easy and fun to collect. I'm not sure why the series isn't collected more. Perhaps it's the all reprint issues that pop up here and there? Over the years I've always made a Giant-Size divider in my bins, I've always respected this series
Some important books came out of the Giant-Size series, none more important that Giant-Size X-Men #1 with its introduction of the New X-Men team. Giant-Size Spider-Man #4 features the 3rd appearance of the Punisher and every issue of Giant-Size Man-Thing allowed jokes a plenty.
This week I'd like to shine the Undervalued Spotlight on one of my favorites from this series, Giant-Size Creatures #1.
Giant-Size Creatures #1 features the 1st appearance of Greer Nelson as Tigra, Nelson was formerly known as the Cat. In this issue Tigra teams up with Werewolf by Night, a character that just reeks of the Bronze Age, to defeat Hydra.
The book also features a great cover drawn by Ron Wilson (best known for drawing the Thing – a lot) prominently featuring Tigra and Werewolf by Night. The book also features a 35 cent cover price and I believe of the 69 Giant-Size issues produced, in my head right now I'm counting four – Chillers, Super Stars, Super-Heroes and our Creatures, the rest being 50 cent covers.
The Marvel monsters of the Bronze Age namely, Werewolf, Dracula and Frankenstein have been enjoying a resurgence in value over the past couple of year. I like any character associated with this corner of the Marvel Universe especially a strong female character like Tigra.
Over the past couple of years this book has been flat, even losing value in the very high grades. Don't let that scare you away, the combination of this book being anchored into such a collectible series of books, it having a first appearance, it having a strong cover and it being one of the 1st few and published with a different price all add positively to the prospects of this book.
The 46th Overstreet price break for this book is $28/$47/$65 in the 8.0/9.0/9.2 grade splits.
Reasons to buy this comic book as an investment.
1st appearance of Tigra
Strong cover with 2 great principles