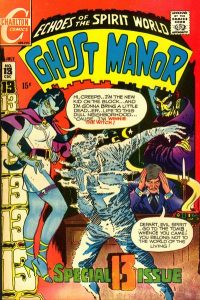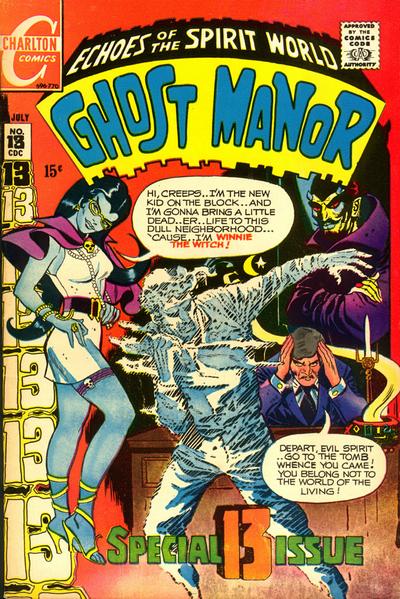 Ghost Manor #13, Charlton Comics, July 1970
Happy Halloween everybody, please remember to dress warmly if you're out trick or treating and if you're driving around please take extra care and watch for all the little goblins and ghosts running rampant in the streets.
This week's theme is obvious but picking the book is hard, there are so many great Halloween themed books to chose from. My inspiration came from my buddy Jay who lost out on an eBay auction for Ghost Manor #13. His rantings and ravings about why he wanted this book was convincing enough to land Ghost Manor #13 in the Undervalued Spotlight this week.
Fitting that my Halloween post ends in 66 (… and if we multiply the 3 in front by 2 …) and it's also fitting that this is #13 of the title, spooky stuff.
Ghost Manor #13 features the 1st appearance of Winnie the Witch who serves as our host for the 3 scary stories told in this issue. I don't know about you but I prefer Winnie as a host to say House of Mystery's Cain or House of Secret's Abel. Creators Joe Gill and Steve Ditko were obviously inspired by the 2 DC Comics hosts but they smartly broke the mold and went sexy witch over decrepit old man!
Steve Ditko art always gives a comic an extra level of collectibility. Ditko drew "The 3rd Player" which was the 1st 9 page story in the book. I'm a big fan of the Pat Boyette cover featuring a great rendition of Winnie and the Devil.
The book has lots going for it, strong creative team, great cover, a 1st appearance and it's practically worthless in the Guide. My pal Jay was obviously not alone in noting the qualities of this book, maybe next time he puts a real bit in and actually wins one for himself (that's of course if I don't hear about it because I want one too).
The 47th Overstreet price break for this book is $13/$18/$22 in the 8.0/9.0/9.2 grade splits.
Reasons to buy this comic book as an investment:
1st appearance of Winnie the Witch
Steve Ditko art
GGA/devil cover