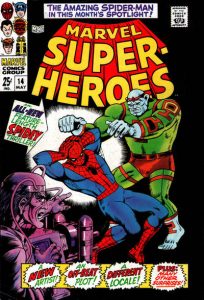 Marvel Super Heroes #14, Marvel Comics, May 1968.
This week I want to stay with Marvel and again pick a neglected gem. Honestly I'm hard pressed to think of a more neglected gem that this week's Undervalued Spotlight – Marvel Super Heroes #14.
Longtime Spotlight fan Juan pointed me towards this book and it didn't take much convincing.
Marvel Super Heroes #14 is a giant size 25 center that boasts a rich black Ross Andru cover. Andru is an Eisner Hall of Famer and is probably most famous for launching a sweet 9 year Wonder Woman run starting with the new Silver Age look in Wonder Woman #98 (with inker Mike Esposito).
Marvel Super Heroes #14 gives us two 1st appearances in the Sorcerer and the Synthetic Man, the book also gives us an 8 page Golden Age reprint story, Mercury in the 20th Century, that was the 1st Jack Kirby signed work for Marvel. 1940 Kirby art is a nice little bonus.
Our pal Juan pointed out to me that this was the 1st time Spidey headlined outside Amazing Spider-Man, I had a quick poke around and found no evidence to the contrary, hopefully someone can confirm.  The Spectacular Spider-Man mag came out a few months after this issue.
I've been watching the incredible run up on all Spider-Man prices. The appreciation of books like Amazing Fantasy #15 and Amazing Spider-Man #1 has been insane but I've also seen this trickle into the whole Amazing Spider-Man run, especially the early issues. I'm saying that people will start dusting off copies of Marvel Super Heroes #14 and start seeing it for what it is, an important, undervalued little piece of Spider-Man.
Marvel Super Heroes #14 in high grade with a nice square binding is stunning to behold and as of this post can be had on the cheap.
Recent sales include a CGC 9.0 at a measly $67 (that's half Guide!) and even more sad a CGC 9.4 at $199. Gah! Where the hell was I for these auctions!
The 47th Overstreet price break for this book is $65/$135/$200 in the 8.0/9.0/9.2 grade splits.
Reasons to buy this comic book as an investment:
1st appearance Sorcerer and Synthetic Man
Square bound black cover tough to get well bound and in high grade
1st Spidey headlining outside Amazing Spider-Man