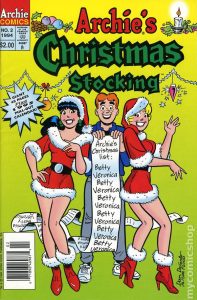 Archie's Christmas Stocking #2, Archie Comics, 1994.
A thousand pardons for mis-timing this one, I could have sworn Christmas fell on a Tuesday and incorrectly lined this one up date wise.  Good thing that tis the season for forgiveness.
The spirit of the season is still with us so I present you with this year's Christmas Undervalued Spotlight pick – Archie's Christmas Stocking #2.
Collecting Christmas covers is an actual thing. Since there are way too many to collect I recommend getting a nice cross section of eras, publishers and characters. The one thing all your Christmas Comic covers should share is that they should be great covers. Archie's Christmas Stocking #2 is a great cover.
It's like this, Archie covers with great visual representations of the essence of the Archie property, that being the love triangle, are a legitimate collecting strain and one showing strong value growth and an ever expanding number of issues being accepted as books that fit the criteria. Take a look at this cover with its strong visual and light hint of innuendo, how can any Archie fan not want it, how can any Archie cover connoisseur not want it .
Archie's Christmas Stocking #2 can be had on the cheap, though it will be a bit of a chore finding yourself a copy. I know that this book will never be worth any real money but digging it out of the bargain bins and giving it the star treatment it deserves will almost certainly make you a buck or two but I have a feeling that once you pick up a copy you'll want to keep it!
Merry Christmas
The 47th Overstreet price break for this book is $4 in the 9.2 grade split.
Reasons to buy this comic book as an investment:
Great Christmas themed Archie love triangle cover