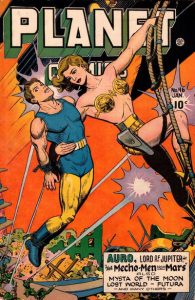 Planet Comics #46, Fiction House, January 1947.
I've noted it countless times but I'll remind everyone again that covers have become a dominant driver of comic book value, trailing only 1st appearance issues in importance.
At the moment some of the hottest comics on the back issue market are the Good Girl Art (GGA) covers of the Golden Age. Attractive females on comic covers seem all the rage and if the female is tied up and about to come into harm the books become twice as hot. I won't comment on what that says about our social norms but I will say collectors want these books.
The Golden Age of comics is a treasure trove of these covers, there has to be hundreds to choose from. The setting may change from warehouse to asteroid to dungeon to jungle and the peril may change from monsters to aliens to Nazis to gangsters but the motif stays roughly the same, girl tied up and boy coming to the rescue.
Why mess with a successful formula.
This week's Undervalued Spotlight pick, Planet Comics #46, messes with that formula and turns it on its head.
Planet Comics #46 offers a dramatic cover featuring our hero Auro, Lord of Jupiter, tied up, helpless and being rescued by a beautiful, strong and heroic female. There are a few other examples out there of this cover dynamic but I have not found one that comes even close to portraying the classic "to the rescue" scene as Planet Comics #46.
I think this cover should be noticed and noted more, especially considering where we stand today in gender politics. I worry that the book could be easily overlooked because the gender roles are not "right" on the cover. I think that's all the more reason to own a copy, it's such a rare scene in comics and it is, from what I've seen, the most striking example.
The Guide has Planet #46 to #60 grouped in as one price. I think we'll see some separation here over the next few years as collectors show their demand for the "better" covers, I also think #46 will separate itself from this field for it's uniqueness.
The 47th Overstreet price break for this book is $518/$884/$1250 in the 8.0/9.0/9.2 grade splits.
Reasons to buy this comic book as an investment:
Bondage cover
Role reversal cover