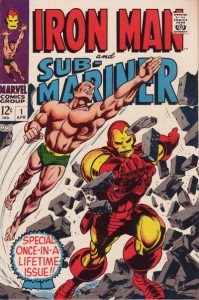 Iron Man and Sub-Mariner #1, Marvel Comics, April 1968.
I was at a small local comic show this past weekend and a sequence of events pointed me towards this week's Spotlight pick.
First off there was this lower grade Tales of Suspense #39 that a guy I knew bought off a dealer, it was a low grade copy but it was a TOS #39 so he went for it. My pal then went over and sold it to another dealer and made himself a nice chunk of change. After he sold it he came over and complained that he didn't have the book any more – don't you love guys like that. Hope the cake was good chum.
Later on at my booth a young man came by with some nice books including a CBCS 9.2 Iron Man #1, the book looked tight but I tried to play the "it's not CGC" card anyway. I never got the book, my offer was too low, apparently the Iron Man #1 fetches $1,500 USD in 9.2.
Maybe an hour later a guy offers up a stack of raw books that I did end up buying. Not much there but the price was right. The best of the bunch included a Marvel Spotlight #32 and a solid VF looking copy of this week's Undervalued Spotlight pick Iron Man and Sub-Mariner #1.
Iron Man and Sub-Mariner #1 is a very unique comic containing two bridge stories that lead to Iron Man #1 and Sub-Mariner #1. The Subby story continued from Tales to Astonish #101 and the Iron Man story continued from Tales of Suspense #99 and as I mentioned above both stories continued on to their respective #1s. Mike Huddleston covers this whole sequence back in an early Arcs and Runs.
I know what you guys are thinking.
Well it has always kind of languished as a collectible playing 3rd fiddle to the two 1st issues. But I want to argue that this is a very unique comic. I can't think of another comic quite like this where it acts as a bridge for characters leaving an anthology series heading towards their own series.
Wouldn't it have been cool if there was a second bridge issue, wouldn't a Captain America and Hulk #1 in April 1968 been a super cool book? Which of the 2 would be more sought after I wonder?
What lead me to seriously consider this book and then to actually pick it is the insane prices Iron Man #1 is getting. I mean Iron Man #1 has a nice dark cover of Iron Man but my book here has a fantastic Gene Colan cover of Iron Man and Sub-Mariner. Both stories are penciled by Mr. Colan.
I don't see why the Iron Man #1 should be fetching 5 times more money than this week's pick at the 9.2, 9.4 and 9.6 grades. Who collects the Iron Man run? Folks want #1, #47, #54, #55, #66 and maybe a few more. I can't remember the last time someone asked me if I had an Iron Man #5 or #7.
Collecting these days is all about the one offs, the unique issues that collectively make up a real dynamic and interesting collection. Iron Man and Sub-Mariner #1 fits that bill and it's actually a very important book. I once knew a guy who had two copies, he ended up buying a second so he could have a separate copy in front of each of his Iron Man and Sub-Mariner runs – you meet all kinds in comics.
Back to Iron Man #1, if Iron Man #1 is able to carry and sustain this much value in the collecting community then, in an aware market, Iron Man and Sub-Mariner #1 should see some major appreciation in value.
It would be remiss not to include Sub-Mariner in the argument. Subby is one of the most speculated characters right now, his 1st Silver Age appearance in Fantastic Four #4 is hot, hot, hot and issues like this week's Spotlight pick will only benefit from Subby's newfound fame.
Of the 3 books in question it's the Iron Man and Sub-Mariner #1 that is the scarcest on the CGC census. There are 215 copies graded CGC 9.4 or better compared to 270 for Iron Man #1 and 391 for Sub-Mariner #1. On the market CGC 9.2 copies could be had for $325, a CGC 9.4 will set you back $500 (the last CGC 9.4 Iron Man #1 fetched $2850).
The 47th Overstreet price break for this book is $117/$259/$400 in the 8.0/9.0/9.2 grade splits.
Reasons to buy this comic book as an investment:
Beautiful Gene Colan cover
Unique bridge issue that predates Iron Man #1 and Sub-Mariner #1