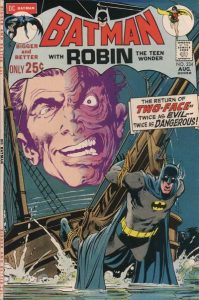 Batman #234, DC Comics, August 1971.
I remember reading Mike Huddleston's recent post on Batman #227 and noting that on his little value chart there was only one book that didn't even double up over the 10 year span of his example (his Batman #227 increased its value over tenfold), the laggard was this week's Undervalued Spotlight pick Batman #234.
Batman #234 features the 1st Silver Age appearance of Harvey Dent/Two-Face.
Batman #234 falls into all kinds of coveted collecting strains. First off it's in the Batman title which is one of the top 2 collected titles in comics (Amazing Spider-Man being the other). Batman #234 is also a key Silver Age re-appearance issue and belongs with other 1st Silver Age Batman keys like #155 (Penguin), #171 (Riddler) and #189 (Scarecrow). Batman #234 also falls into the very heavily collected Neal Adams Batman collecting strain which includes issues like Batman #227, 232, #251 etc.
Somehow the Guide has Batman #234 at almost half the value of two other Adams issues whose values are driven by their sought-after covers, those being Batman #227 and #251. Even at their almost double up Guide prices, high-grade copies of Batman #227 and #251 get a higher percentage of Guide results in the marketplace. Even among the list of Silver Age 1st appearances I listed above Batman #234 lags behind the percentage of Guide values issues like Batman #171 and #189 are getting.
So Batman #234 represents the lowest Guide value of the bunch of books I've mentioned above and it's the only one that straddles both the 1st Silver Age appearance strain and the Neal Adams Bronze Age Batman strain yet it is the underperformer.
You can't blame the cover, it's great and it's Adams art featuring the principal villain and Batman, it's even one of those 52 page Giant's that always seem to do well.
I think Batman #234 just got lost in the shuffle a bit but I think it's due for a re-evaluation and I think it will correct nicely.
The 47th Overstreet price break for this book is $147/$324/$500 in the 8.0/9.0/9.2 grade splits.
Reasons to buy this comic book as an investment:
1st Silver Age appearance of Harvey Dent/Two-Face
Embedded in Batman's heavily collected Neal Adams early Bronze Age collecting strain and in the 1st Silver Age appearance strain