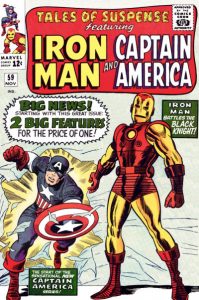 Tales of Suspense #59, Marvel Comics, November 1964.
Silver Age keys are one of the hottest segments of the market, Marvels especially and pre-65 Marvels especially. I think there are still a few keys that have yet to meet their full market potential, like this week's Undervalued Spotlight pick, Tales of Suspense #59.
Tales of Suspense #59 contains the 1st solo Captain America story since 1954, the 10 page "Captain America" story was co-written by Stan Lee and Jack Kirby with Kirby doing the art.
With this issue Tales of Suspense turns into a spit headliner book featuring Iron Man and Captain America stories all the way through issue #99, with the 100th issue famously converting to Captain America. Tales of Suspense #59 is the launch of Captain America in his own co-title, it's the 1st Captain America #100!
As I mentioned above there was an Iron Man story in this issue, in the 13 page "Black Knight" we are introduced to Alvin Jarvis, the now famous Butler for the Avengers.
And what a fantastic Kirby cover, it's considered a classic, with Cap and Iron Man both full frontal. The light backgrounds on this book can really make for a vibrant looking book if you are lucky enough to find a copy with thick glossy inks. It's also hard to nail down a copy with good centring, where you get the view of the full M on the MARVEL at top left.
The markets are so ho-hum on this book, CGC 9.0s and 9.2s sell for well below Guide. I can't figure out why the book in higher grades has true scarcity, there are less than 100 graded at CGC 9.2 or higher.
I consider this book a key issue and with the explosion in prices for the major keys, I don't think we're far off for this early secondary key to jump on the bandwagon. Tales of Suspense #59 meets all the criteria, the classic cover, the creative team, the principal characters being A-listers, the 1st appearance, the 1964 early Marvel time slot, the scarcity of grade, the 1st solos story since…, the launch of a character's title, it's all there and I don't think it will be long before people mark this book as a neglected undervalued issue with good upside.
The 47th Overstreet price break for this book is $311/$706/$1100 in the 8.0/9.0/9.2 grade splits.
Reasons to buy this comic book as an investment:
1st appearance of Jarvis
1st solo Cap story since 1954
Launches Cap's own title
Classic Kirby cover