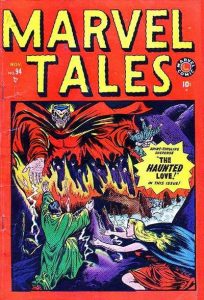 Marvel Tales #94, Marvel Comics, November 1949.
I spend Labor Day labouring with my crew on putting our shop back together after our massive Fan Expo undertaking. Combine a massive 4-day con with a massive 27′ x 32′ island booth and you end up with a massive amount of work and a massive post con cold. I'm a tough guy though so there's no way I'm not doing a post tonight. Our editor Scott recommended that I get one prepared beforehand but what does he know about modern agriculture!?
I went into the con with my eyes peeled for future Spotlights and I did find a few, including tonight's.
I was surprised with the number of young men that approached my booth with pre-code horror comics. These young guys are aggressive in their pursuit of these gems and I enjoyed chatting about the holy grails of the collecting strain, the abundance of great covers and the overall cool factor associated with pre-code horror.
One young man happened to be carrying around a rough but respectable copy of this week's Undervalued Spotlight, Marvel Tales #94. It was a lower grade raw copy that he said he found at the con for $150 CDN.
Seeing that stunning Devil/Burning Hell cover gave me a flashback to one of the more doofusish decisions I've made in my bad decision prone comic book career. Once, years and years ago at the Philly Wizard con I believe, I passed on a tight looking copy of Mask #2 with its famous Devil cover. Oh well.
I told the young man that it was a sweet pick up, I even checked GPA for him and saw that some mid-grade copies have been selling in the $500 to $700 range. Cheap.
Personally, I love this early run of Marvel Tales, there are a bunch of great covers there and most are undervalued in my view. I think the market is cool to these issues because they don't have the gore and nastiness of some of the other pre-code horror stuff that other publishers were doing but this book is a gem and the next one to reach an auction will fly through current prices, I know I'll be bidding!
The 48th Overstreet price break for this book is $444/$947/$1624/$2300 in the 6.0/8.0/9.0/9.2 grade splits.
Reasons to buy this comic book as an investment:
Stunning Sol Brodsky/Bill Everett devil cover