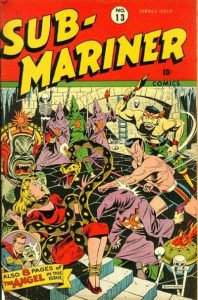 Sub-Mariner #13, Timely Comics, Spring 1944.
On a recent post convention dinner we were debating what the best covers of each "age" were. For this Spotlight post we'll focus on our "Golden Age" argument. Some great books were put forth but only two made everyone's list, Detective Comics #31 and Suspense Comics #3.  Suspense Comics #3 has to be the poster child for cover driven comic book value! What a cover!
Don't ask me why but I was recently skimming through some pics of Golden Age covers when I spotted something that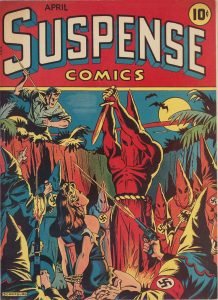 caught me as familiar, I looked a little closer and found this week's Undervalued Spotlight pick, Sub-Mariner Comics #13.
Sub-Mariner Comics #13 features a classic and stunning Alex Schomburg hooded Japanese, bondage cover. I scanned some of the other covers in the Subby run but this one takes the prize hands down as the best of the bunch as far as I'm concerned.
The familiarity of course came from me subconsciously associating this cover to Schomburg's monster Suspense Comics #3 cover. What won me over were the dates, Spring 1944 for Sub-Mariner #13 and April 1944 for Suspense #3. Did he draw these covers the same week?
You can see Schomburg reusing some familiar pieces in the hooded figures and the girl in bondage. The Sub-Mariner cover is a lot busier with skulls and snakes and demons thrown in for good measure while the Suspense cover is the epitome of design and substance.
So you want a Suspense #3 but can't afford one? Look around for a Sub-Mariner #13 it's the same but very different and much, much cheaper. The Sub-Mariner run is cheap in general and picking up copies of this pivotal Timely title at today's prices is a good idea. As always keep to copies that are crisp and tight with a good register and some good color gloss.
The 48th Overstreet price break for this book is $1149/$2681/$4691/$6700 in the 6.0/8.0/9.0/9.2 grade splits.
Reasons to buy this comic book as an investment:
Classic Alex Schomburg bondage cover