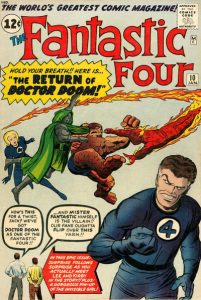 Fantastic Four #10, Marvel Comics, January 1963.
Stan Lee passed away yesterday, Monday, November 12th, 2018. My condolences to Mr. Lee's family and friends.
I'll always remember where I was when I heard of Stan Lee's death, I'll also remember the onslaught of emails and text messages I received immediately after, many from people not in the hobby awkwardly offering condolences. Stan Lee was a giant, a truly larger-than-life pop culture superstar, the world will miss him.
I wrestled with picking a Stan Lee book tonight, I thought maybe I should hold off but I reminded myself that the Spotlight is written for fun and to celebrate collecting. While I may focus on value assessment I can also point to comics that add to the depth and quality of collections. I wanted to pick a comic that Stan Lee helped create and one that we should all want to own.
This week the Undervalued Spotlight shines on Fantastic Four #10.
There are three main reasons I picked Fantastic Four #10.
First, I wanted it to be a Fantastic Four comic. This is early, early days and for me, nothing screams Stan Lee as loud as the early Fantastic Four.
Second, I wanted it to be a book that he created with Jack Kirby (Mr. Kirby passed away February 6th, 1994). Fantastic Four #10 was masterfully drawn by Jack Kirby. Stan Lee and Jack Kirby are the ultimate creative team for comic books, they are the John Lennon and Paul McCartney, the Ben Cohen and Jerry Greenfield, the William Procter and James Gamble, their collaborative output was exponentially higher than the sum of their parts.
Third, Fantastic Four #10 actually has Stan Lee and Jack Kirby drawn right on the cover and Lee has written himself and Kirby into the story itself kicking off a long-standing Marvel tradition of writers and artists working themselves into stories.
I do believe this to be the 1st appearance of Stan Lee in a comic, lord knows he's appeared in countless others since. Hey, does anyone know how many comic covers Stan Lee has appeared on?
Respectfully though we all must face the white elephant in this post which is the commercialization of Stan Lee's passing and legacy. We all must pass and Mr. Lee led a long and productive life that has given joy to billions, yes I typed billions. His status as an icon will only grow stronger. Currently, on marketplaces like eBay, there are literally tens of thousands of Stan Lee items available for sale. Many items will sell and why not, this is a natural time for people to wish to possess something associated with this great man.
Because I follow comic books I've noticed comics with Stan Lee on the cover being gobbled up at a torrid pace with collectors more than willing to pay the premiums such moments tend to generate.
I've chosen Fantastic Four #10 because from what I've seen it has by and large not been one of the obvious choices satisfying the large sentimental demand.
Fantastic Four #10 has barely benefited from the general yearlong price rises in value that the key Fantastic Four issues have enjoyed. Actually, this book has seen price drops through many grades.
It's a healthy thing to wish to own a Stan Lee comic book at this time, Fantastic Four #10 brings so much of what Stan Lee was all about under one beautifully drawn cover.
The 48th Overstreet price break for this book is $1254/$2827/$4300 in the 8.0/9.0/9.2 grade splits.
Reasons to buy this comic book as an investment:
Stan Lee and Jack Kirby on cover
Stan Lee and Jack Kirby written into story starting a unique Mighty Marvel tradition
Early, early Marvel, predates X-Men, Iron Man, Doc Strange, Daredevil etc