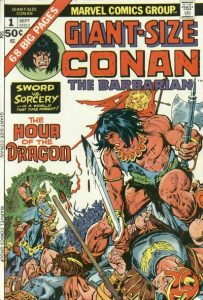 Giant-Size Conan #1, Marvel Comics, September 1974.
This week's Undervalued Spotlight shines on Giant-Size Conan #1.
Giant-Size Conan #1 features the first comic book appearance of Belit, the Shemite pirate known as the Queen of the Black Coast. Belit's literary debut was in Weird Tales from May 1934, the pulp featured one of my favourite Conan stories The Queen of the Black Coast. She's a stand-out character, Conan #58 and #59 with the great Buscema art and containing Belit's origin story are also worth owning.
I'm a lifelong Conan fan, I've read all the original Robert E. Howard stories and even liked the L. Sprague de Camp stuff. Of all the Conan movies the first half of the first Conan with Arnold was the best, it was hardcore, unfortunately, the second half turned into a buddy comedy and things just got worse from there on movie-wise. The Conan TV show in the late 90s was meh but I do hear that Amazon streaming is making a new series?
Jason Mamoa's stint as the Cimmerian missed the mark but I wonder now that he is a superstar thanks to Aquaman whether they will try again? Or does Disney make a new movie with a new actor?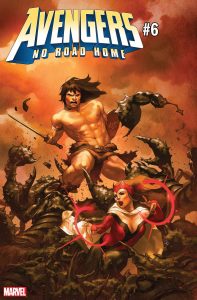 The latest Conan news that's got me excited is that Marvel is taking back the Conan rights, I think this is a great opportunity to bring one of my favourite characters back to the fore. Even more exciting is Marvel's audacity with their Avengers: No Road Home event this spring, the story brings Conan into the Marvel U continuity. Check out a cover to #6, Conan and Scarlet Witch!
Getting back to Belit, she is one of the main characters in the whole Conan saga, right up there with Red Sonja. Any success with Marvel shoehorning Conan into their continuity will surely mean good things for Belit, she's too strong a character to leave behind.
Copies can be had on the cheap, the book still populates half-off bins and CGC 9.2 copies go for below Guide, a CGC 9.4 should set you back $75 while a CGC 9.8 might cost you $400 (17 copies at 9.8 as of this post).
My preference would be a 9.8 but a tight, crisp 9.4 that's on register and square is a safe and strong play.
The 48th Overstreet price break for this book is $25/$40/$55 in the 8.0/9.0/9.2 grade splits.
Reasons to buy this comic book as an investment:
First appearance Belit
Cheap and attainable