True To Life Romances #11, Star Publications, May 1952.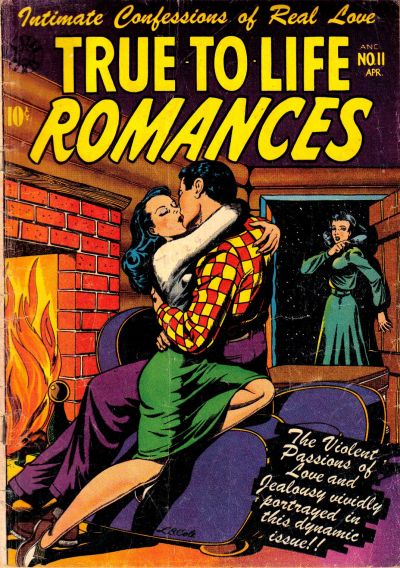 Happy Valentines Day everybody.
This might be my favorite Spotlight of the year as it means I get to scour the deep and rich history of Romance Comics and pick one I think deserves more love.
A great man once said "Romance with no finance is a damn nuisance" so I recently sold an old Matt Baker cover comic to help out the cash flow . The only thing bad about selling a great romance comic is after the deal is done you don't have the comic any more. Anyway it occurred to me that Matt Baker absolutely dominates the high end Romance Comics collectible market and while I won't try to argue his supremacy I would like to point out that there are absolutely stellar Romance covers out there that rival Baker's work.
This week I'd like to shine the heart shaped Valentines spotlight on True To Life Romances #11.
True To Life Romances #11 features what I think is the best Romance cover by everybody's favorite artist these days L.B. Cole. Mr. Cole is not enjoying the massive market appeal by accident, he is an amazing and prolific artist that has left us dozens and dozens of covers we are climbing over each other to get. While Cole is most famous for his Sci Fi and his Horror his Romance stuff has only recently started heating up.
L.B. Coles cover to True To Life Romances #11 is his best romance cover and given some time it will filter out as being the one to have. This book stacks up against Baker's best and it can be had at a fraction of the price.
True romantics wants one of these in their collection and since we're all romantics at heart…
The 48th Overstreet price breaks for this book are $161/$356/$550 in the 8.0/9.0/9.2 grade splits.
Strengths that make this comic a good long-term investment are:
I think this is the best L.B. Cole Romance cover