Dead of Night #11, Marvel Comics, August 1975.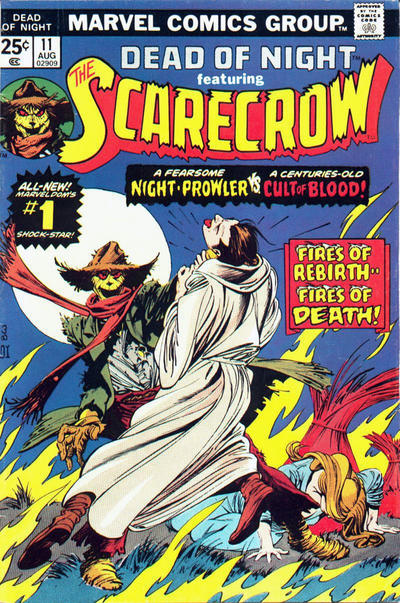 I just bought a nice little collection of late Silver Age to early Copper Age books with a lot of the key issues present. Luckily the guy liked his early Bronze Age Marvel horror titles so quality copies of Spotlight #2 and #5, Tomb of #10, Werewolf #1, #32 were all there. He also had a solid run of the Dead of Night including a crisp copy of this week's Undervalued Spotlight Dead of Night #11.
Dead of Night #11 features the first appearance of the Scarecrow. There are two more Bronze Age appearances I know of in Marvel Spotlight #26 and Marvel Two-In-One #18. The character resurfaced in the early 90s when Marvel changed the characters name to the Straw Man in a Doctor Strange issue. Straw Man later appeared in the Fear Itself story arc.
I like this character and I like the origin premise where Straw Man appears from a dimension within a painting entitled "Scarecrow". Dead of Night #11 also introduced a great supernatural villain in the Cult of Kalumbria. Basically Straw Man is the one keeping the evil demon Kalumbria from entering earth's realm.
The whole thing sounds great and very Doc Strange-ish. Dead of Night #11 also introduced supporting characters the Duncan brothers and Harmony Maxwell. Harmony is an art critic and the girlfriend of Jess Duncan, the man who bought the above mentioned painting "Straw Man" which contained the inter-dimensional portal guarded by Straw Man.
When you look at this book up and down it really does bring a lot to the table. We get a fantastic cover, we get the first appearance of a magical character just ripe for the world of Doctor Strange, we get some great supporting character intros and we get a nasty villain intro in the Cult of Kalumbria.
Dead of Night #11 also brings some scarcity, as of this post there are only 21 CGC 9.6s graded with no (zero) copies at 9.8. What's best is that the market is so ho hum on the issue, the most recent sale was a CGC 9.2 which dropped to $47. There's a 9.6 copy, which would be the highest graded copy, available on line for $165.
It almost seems like a no brainer that this book will catch fire in the near future and copies are still so cheap. I'd say it's a good time to buy a crisp clean copy, well centered with some fresh gloss, you'll probably have money left over for a Spotlight #26 and maybe even a Two-In-One #18.
The 48th Overstreet price breaks for this book are $28/$47/$65 in the 8.0/9.0/9.2 grade splits.
Strengths that make this comic a good long-term investment are:
First appearance Straw Man (Scarecrow)
Strong Gil Kane/Bernie Wrightson cover