Sub-Mariner #8, Marvel Comics, December 1968.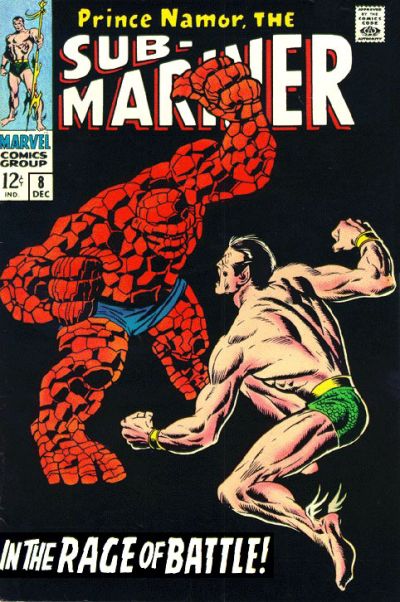 My buddy Dave and I were talking comics and were arguing about some of the toughest books to get in grade. We were being reasonable and talking late Silver and Bronze.
I liked the book Dave argued for so much that I decided it had to be this week's Undervalued Spotlight, the book in question is Sub-Mariner #8.
Dave collects high grade bronze and he says he's been frustrated hunting down a tight crisp copy of Sub-Mariner #8 for his collection.
Sub-Mariner #8 features a classic battle cover by the mighty John Buscema, the battle is set to a jet black background making high-grade copies next to impossible to get.
When I compare Sub-Mariner #8 to Buscema's other stellar battle covers with black backgrounds like Silver Surfer #4 and Fantastic Four #112 I see just how great a value Sub-Mariner #8 is at the moment.
Let's put aside Surfer #4 because it is so iconic and just compare to a Fantastic Four #112. Sub-Mariner #8 came a full two and a half years before Fantastic Four #112.
Sub-Mariner #8 is actually scarcer in higher grades, compare the 125 copies CGC graded at 9.2 or better to the 185 copies at CGC 9.2 or better for Fantastic Four #112 and then compare the market prices. Much like I was you'll be surprised that Fantastic Four #112s fetch crazy prices like $1560 for a 9.4 and $570 for a 9.2. Meanwhile Sub-Mariner #8s are getting $381 for a 9.4 and $177 for a 9.2. These market prices seem so off that they must be! I'm thinking Sub-Mariner #8 in high grade is such a buy right now.
Let's not forget that as a comic book character Sub-Mariner's star has already started to rise and has plenty of height still to climb. He's a great character to do some specing on.
Like always aim for a crisp tight copy, square to the corners and holding lots of gloss.
The 48th Overstreet price breaks for this book are $64/$132/$200 in the 8.0/9.0/9.2 grade splits.
Strengths that make this comic a good long-term investment are:
Classic battle cover
John Buscema
Tough black cover