Tales of Suspense #40, Marvel Comics, April 1963.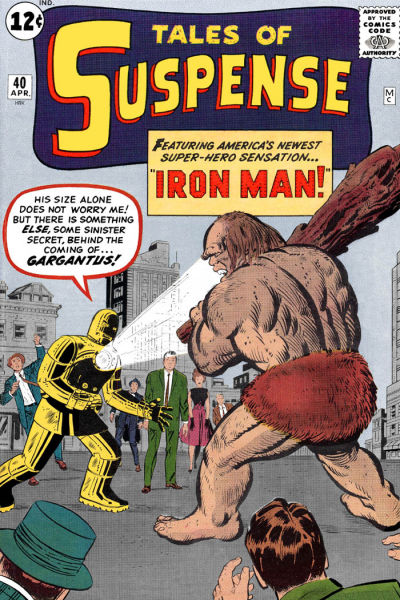 Its funny but my current Covered, 365 project really got me to thinking about this weeks Undervalued Spotlight, Tales of Suspense #40.
Tales of Suspense #40 features the second appearance of Iron Man, and unfortunately has a sub par Jack Kirby cover.
Like I mentioned above I was inspired to pick
Tales of Suspense #40 precisely because I've been on the hunt for good looking covers for 100 plus days now. Fantastic covers are awesome and really good for the hobby but the focus on them these days I believe is opening up opportunities for some great acquisitions.
As great as covers are they are still second fiddle to the characters they depict. Character introduction is still the most important driver of value in the hobby and early character appearances have quietly been gaining ground in behind all the cover clamor.
I did a quick comparison of early Marvel second appearances and found Tales of Suspense #40 looking like a bargain. Stacked up against issues like Hulk #2, Fantastic Four #2, Journey Into Mystery #84 and Amazing Spider-Man #2 (third appearance) I'm finding Iron Man's second appearance at fractions of the prices of the others. Yes, I'll note that there are no first villain appearances of note but the weight of Iron Man should be carrying this book to higher values.
Tales of Suspense #40 is one of those round 12 cent Marvels that at first glance instantly signals early days old, X-Men #1 and Avengers #1 are not even round 12 centers. These round 12 cent issues make up quite a healthy collecting strain.
Recently a CGC 8.0 sold for $1678, right at Guide while a recent CGC 9.0 fetched $3360 which is well below Guide.
I know Tales of Suspense #40 is not a glamorous pick, I've been avoiding it for years but I think its time has come and that it has room to make a nice run. I also know there are better covers but the key fundamentals here are that this is the second appearance of Iron Man and this is one of a very small and select group of books that represent the fledgling early days of Marvel.
Hey, and let's not forget that the armour changes to gold which is a progression in the development of the character.
I think snagging a crisp, clean CGC 8.0 that's boasting a tight spine and some nice gloss at anywhere near current prices is a solid find and a sound investment going forward.
The 48th Overstreet price breaks for this book are $1650/$3725/$5800 in the 8.0/9.0/9.2 grade splits.
Strengths that make this comic a good long-term investment are:
Second appearance Iron Man
Early days, round 12 cent Marvel
Armor changed to gold, minor tweak but a character development