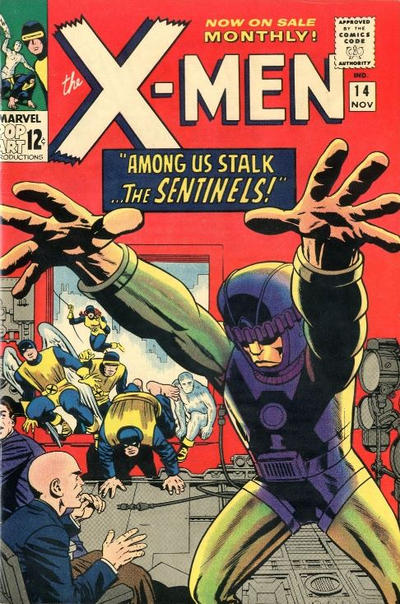 X-Men #14, Marvel Comics, November 1965.
Some X-Men books are enjoying some nice value appreciation lately so I thought I'd scour the catalog and find us a sleeper.
I was never a big fan of the X-Men movies but there was one scene, in Days of Future Past, where the Sentinels come in and hunt down a group of X-Men. Yeah. An exhilarating scene thanks to the super cool Sentinels.
Today's Undervalued Spotlight shines on the first appearance of those dreaded mutant hunters in X-Men #14.
X-Men #14 delivers on a few fronts, first off it introduces new characters that are and continue to be vital to the Mutant universe and second, as an added bonus, the Sentinels are featured front and centre on the cover. First appearances are great long term investments and first appearances that happen on the cover are even better long term investments.
In X-Men #14 the Sentinels proclaim themselves superior to humans and prepare to take over the world. Tell me that is not a premise right for today. Obviously a great concept. How great? As of this post the Sentinels have appeared in 2279 comics! I'd say they're a hit and they're here to stay.
X-Men #14 has never got a lot of love from the markets, as long as I can remember it's been a slow mover especially relative to its sister book X-Men #12 (first Juggernaut) and similar in a way with its bright red colour.
The last CGC 9.4 sale of X-Men #14 fetched what seems like a too low $1912 while a recent CGC 9.2 sold for just over Guide at $975.
For some reason the Overstreet Guide still has #14 coupled with #15 (origin Beast) at $800 each. X-Men #14 should be separating and pulling away from #15 and it should be doing it soon.
The Sentinels are not going away and as cool as they were in that Days of Future Past movie I can only imagine that Marvel will take them to a whole new level.
If you're on a budget look for a crisp smart looking CGC 7.5, the last one sold for a steal at $360. If you can afford it grab a clean, tight CGC 9.2 with healthy gloss and a good clean register for less than $1000.
The 48th Overstreet price breaks for this book are $230/$515/$800 in the 8.0/9.0/9.2 grade splits.
Strengths that make this comic a good long-term investment are:
First appearance the Sentinels
Anchored in one of the most collected titles in the hobby
Good long term prospects for X-Men and for Sentinels