Hot Rod Comics #1, Fawcett Publications, November 1951.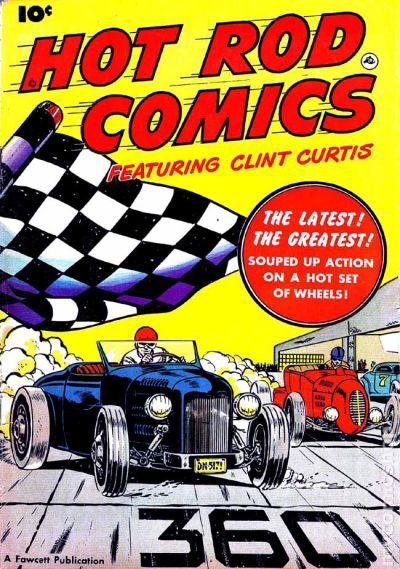 This week's Undervalued Spotlight came to me as I noticed myself checking out comics from a long forgotten genre while I was looking for worthy covers for my Covered 365 project. I kept taking second glances at all the comics devoted to hot rods and racing cars. There was a good 20 plus year run where these comics were a thing, heck I even have a copy of Hot Wheels #1 in my PC.
Anyway, I got a little curious and explored a bit. I was looking for a relate-able, bankable, durable character that built up a large body of work and that could stand ready if ever called back into action (perhaps his grandson or granddaughter at least).
First off some of these car comic covers are fantastic, beyond fun and full of drama and intrigue, it would be easy for me to add this genre to my collecting habits. Move over Linda Lark and make some room in that box for Clint Curtis, star of this week's Undervalued Spotlight pick Hot Rod Comics #1.
Fawcett Comics and Charlton Comics both launch a race car comic title in November 1951. With the companies being so close to each other physically (Connecticut, USA) I'm wondering if the writers or artists or managers knew each other because in November 1951 Fawcett launched our Hot Rod Comics #1 featuring Clint Curtis, Charlton meanwhile launches Hot Rods and Racing Cars #1 the same month.
By 1953 Fawcett was in trouble and started to farm out some of its properties to its close neighbour Charlton. Because Charlton already had a similar title they did not pick up Hot Rod Comics as one of the properties they were using from Fawcett. In 1954 though they did reprint a Clint Curtis story in Hot Rods and Racing Cars #16 and oddly they shelve the character until October 1959 wherein Hot Rods and Racing Cars #42 Clint returns as the headliner of the title.
Clint Curtis goes on to headline Hot Rods and Racing Cars for almost 16 years making 79 appearances with his last being the titles last issue #120 (June 1974).
Clint Curtis had a 16 year run at Charlton, not bad for a thrown away character that Charlton had no room for as they were taking on Fawcett properties. Curtis had a longer run than the Fawcett Publishing company had (with comics at least).
I always preach on this site that the number one driver of comic book value is the first appearance of a character. The more important the character the better the prospects for the book value wise. I know, nobody knows who Clint Curtis is but had he been a flash in the pan character I don't think I would have picked the book. I like the miles Clint has logged, he's done a lot of laps and that is something important he brings to the table in this crazy world of nostalgia/canon/pedigree.
I'm also high on the Hot Rod genre like I said, great fun covers, good continuity, easily accessible collecting strain and bargain prices. There's a lot to like.
You won't find one of these at auction, the CGC 9.6 Crowley copy of Hot Rod Comics sold in 2012 for $896. The place to find this comic is on eBay or at a con rummaging through some old timers dusty hot rod bins. I can't recommend a grade here just snag a copy and you'll be way ahead of the rest of us.
The 48th Overstreet price breaks for this book are $177/$289/$400 in the 8.0/9.0/9.2 grade splits.
Strengths that make this comic a good long-term investment are:
First appearance of Clint Curtis