Amazing Spider-Man #172, Marvel Comics, September 1977.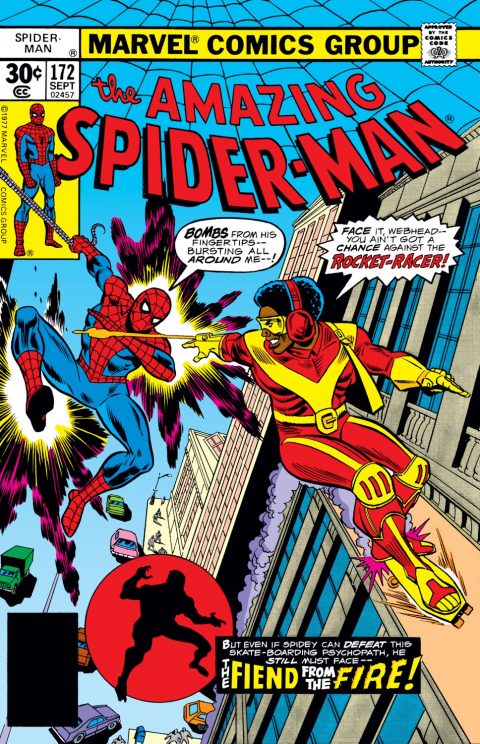 This week's Undervalued Spotlight is so obvious that it's a wonder it's still stalled on the launch pad. Make no mistake though this week's Undervalued Spotlight, Amazing Spider-Man #172, will soon blast off propelled by that dastardly villain the Rocket-Racer.
Amazing Spider-Man (ASM) #172 is hiding in plain sight, it brings to the table many of the fundamentals important to building comic book value. ASM #172 is embedded in the Amazing Spider-Man run fitting nicely in with the full title completists and the more hardcore #1-#200 collectors.
This issue is anchored firmly in the first appearance of Spidey villains collecting strain, you can't own an ASM #134 (Tarantula) and an ASM #194 (Black Cat) without owning an ASM #172.
ASM #172 has the first appearance of Rocket-Racer alias Robert Farrell, a brilliant scientific prodigy who turns his talents to crime to help support his younger siblings after his mom passed away. I know that Rocket_Racer will never be a Green Goblin or a Venom but he's ripe to use in future Spidey projects, I like the idea of getting Dazzler somehow involved perhaps ina 1977 Studio 54 flashback??
Its always a bonus when our first appearance is also a cover appearance, Ross Andru gives us a funky first look.
The best part of Amazing Spider-Man #172 is that you can pick up a CGC 9.8 for about $200 or better yet snag a crisp tight looking CGC 9.6 White Pager for $35!!
The 48th Overstreet price breaks for this book are $16/$23/$30 in the 8.0/9.0/9.2 grade splits.
Strengths that make this comic a good long-term investment are:
First appearance of Rocket-Racer
Embedded in Amazing Spider-Man title, the most collected title in the hobby
Falls into the first appearance of a Spidey Villain collecting strain, a hot strain!