Micronauts #8, Marvel Comics, August 1979.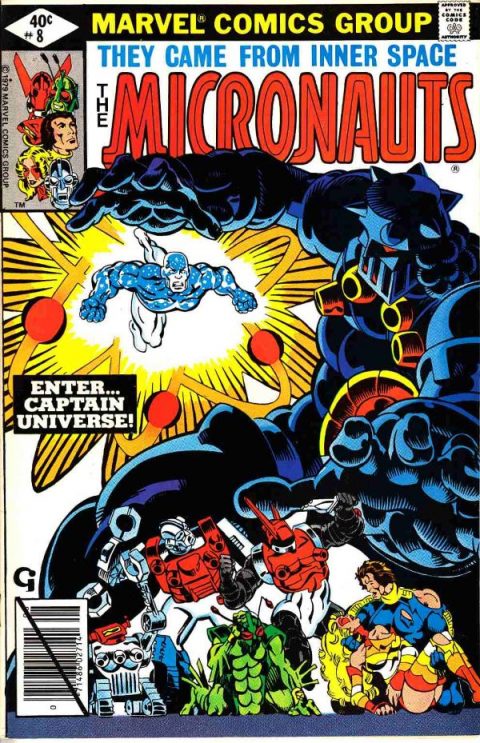 I didn't dare go toe to toe with Stephen's epic Spotlight #448 from last week I thought I'd grab a nice bite-sized late Bronze Age book we can all aspire to own.
This week's Spotlight shines on a book a friend of mine picked up raw and in high grade for $20 Canadian at this past weekend's Niagara Comic Con, the sweet little pick up was Micronauts #8.
Micronauts #8 features the first appearance of Captain Universe. The Captain Universe concept is massive and complex with infinite potential for good storytelling. The Uni-Power force is from the extra-dimensional that can possess a person in a time of crisis turning that person into Captain Universe. Captain Universe is the guardian and protector of eternity, an important job. What's good for Micronaut fans is that the Uni-Force seems to be connected to the Microverse which is the domain of the Micronauts.
Most of the time through the history of the character the Uni-Force possesses normal humans though in the past it has possessed Spider-Man, Bruce Banner, Doctor Strange and other heroes.
Captain Universe is also tied into the Guardians of the Galaxy storyline which makes Micronauts # 8 a great spec book for Phase 4 Marvel. Micronauts #8 gives us a pretty strong Captain Universe cover, an important consideration in this age of covers.
Micronauts #8 can be had on the cheap, you can grab a CGC 9.6 for less than $100 and a CGC 9.8 will cost you less than $250.
Micronauts #8 is a 1979 book, soon to be 40 years old. The late 70s and early 80s are a great period to mine for cheap future keys and I believe Micronauts #8 has the makings of one.
Current Overstreet splits for this book are are $19/$30/$40 for 8.0/9.0/9.2.
Strengths that make this comic a good long-term investment:
First appearance of Captain Universe
Embedded in the very collectible late Bronze Age
Heavily tied to Cosmic Marvel, which is a good thing