Daredevil #3, Marvel Comics, August 1964.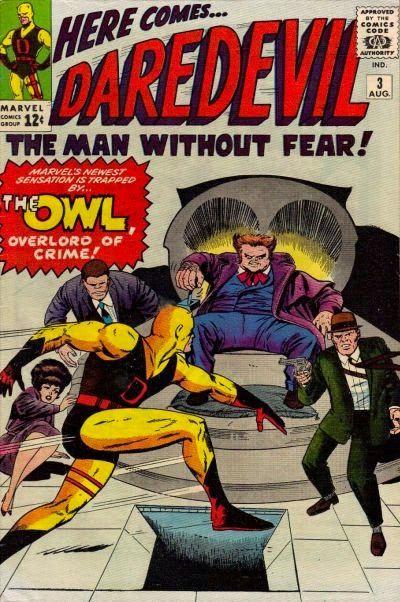 This week's Undervalued Spotlight came about while I was talking books with a few guys this past weekend at a local comic book shop. I had sold an Amazing Spider-Man #46 and a Batman #181 within minutes of each other and a small group of us started discussing the strong demand for first villain appearances. I argued that Amazing Spider-Man is the title that has most collectors picking off the villains with Batman being second.
We talked about how villain collecting is the new run collecting where there are guys coming in with lists but it's not for the full run, the list is for the first villain appearances.
So the big guns like Spidey and Batman with their massive Rogue's Gallery of villains are the natural leaders in this collecting strain but it got me to wondering could this collecting strain resurrect the dead? Could villain collecting breath new life into long-dormant titles?
A nice little debate started up and somehow after throwing a few candidates around we collectively picked this week's Undervalued Spotlight as Daredevil #3.
Daredevil #3 features the first appearance of The Owl, the Overlord of Crime. The Owl has made over 300 appearances in the Marvel Universe and is a foe of Daredevil and Spider-Man. A great feature of Daredevil #3 is that we get the Owl prominent on the cover, always a bonus for first appearance issues.
The markets are asleep when it comes to Daredevil #3, a CGC 9.6 sold for $$3,105 back in 2004, that's 15 years ago! The last CGC 9.6 sold for $2,605. You can pick up a CGC 8.0 for just over $350, actually, 6.5s, 7.0s, 7.5s and 8.0s have all shown lower sales over the past year giving back some of those reflex gains made a few years ago when Daredevil made it to Netflix. Now that Daredevil is off Netflix prices seem to be falling.
I say grab Daredevils now while people don't want them but don't just grab any Daredevils, grab issues that have first appearances of villains. My buddy Christain picked up a Daredevil #58, the first appearance of Stunt Master, at the show and he bought it cheap.
Daredevil has been a tough title to sell over the past couple of decades but I'm calling an uptick in demand. Daredevil #1 has been making steady gains and next to move will be the villain appearances so when you're grabbing the #131 (Bullseye), the #111 (Silver Samurai), the #18 (Gladiator) don't forget to grab what will be the bargain of the bunch Daredevil #3 (The Owl).
The 48th Overstreet price breaks for this book are $311/$706/$1100 in the 8.0/9.0/9.2 grade splits.
Strengths that make this comic a good long-term investment are:
First appearance of the Owl
Key villain in the Daredevil run
Early Daredevil issue