Avengers: The Initiative Annual #1, Marvel Comics, 2007.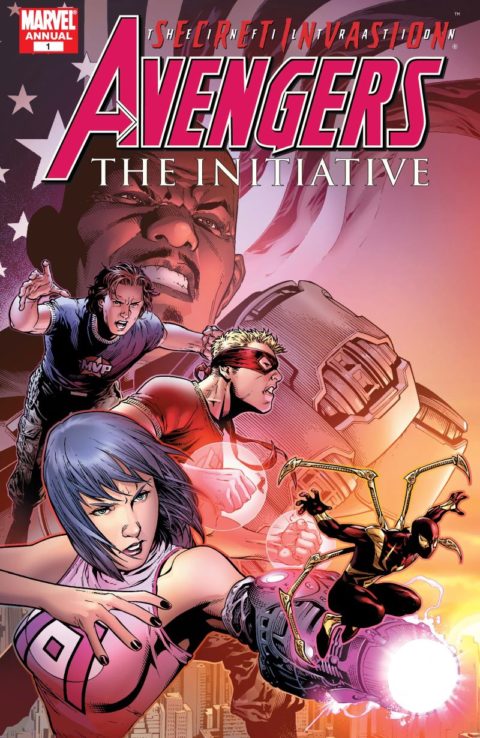 Vacation week for me so I thought I'd throw in a nice light bite-sized pick to help keep the holiday pounds off me.
We were talking about Marvel's Secret Invasion mini-series at the shop the other day, about how Phase 4 of the movies could lead to a Secret Invasion climax. I thought of picking Secret Invasion #1 as an Undervalued Spotlight and while I do like the book, even the whole mini-series, I thought I'd try to find something a little more obscure. I think I did, I'd like to present Avengers: The Initiative Annual #1 as this week's Undervalued Spotlight.
Avengers: The Initiative Annual #1 is listed as the first prelude to the whole story arc, released under the Infiltration banner.
Our pick also boasts the first appearance of the Liberteens, a team comprising of Blue Eagle, Ms. America, Iceberg, Whiz Kid, Hope, 2-D and The Revolutionary. At the end of the story, we learn that the leader of the Liberteens, Revolutionary is really a Skrull.
Avengers: The Initiative Annual #1 isn't worth anything so while there is some spec already starting on Secret Invasion #1 not a thing is happening with the Annual #1, you can pick up CGC 9.8 copies for less than $40 and crisp tight raw copies in dollar bins.
Secret Invasion #1 had a print run of 270,000 plus while our Avengers Annual's print run was below 57,600 copies.
I don't think the print run is an issue though, this week's Spotlight pick is a deep spec pick that may see our book go from a $2 bin book to a $10 or $15 book with CGC 9.8s may be breaching $100 when the hype really hits. It's a harmless exercise cost-wise though you'll have to do a bit of digging to line your wall with copies.
The 49th Overstreet price breaks for this book are $4 in the 9.2 grade split.
Strengths that make this comic a good long-term investment are:
1st Secret Invasion book
1st appearance the Liberteens