Marvel Premiere #3, Marvel Comics, July 1972.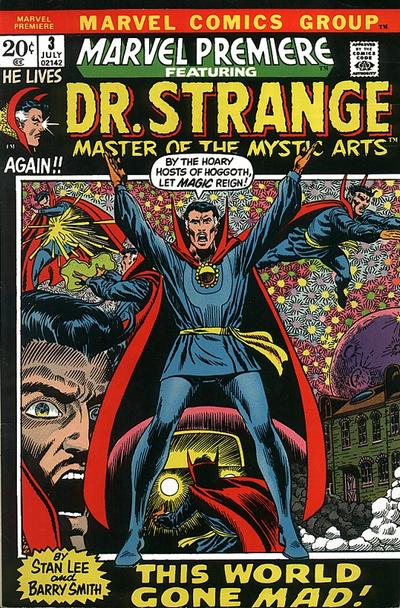 Someone was talking the other day of a strong sales result of a nice copy of Strange Tales #110, the book that features the first appearance of Doctor Strange. I've noticed the book has stabilized and looks like it's poised to make some more gains.
I think there is currently a positive vibe around the Doctor Strange character, Benedict Cumberbatch has loads of charisma and is a great cast for the role in the Marvel Cinematic Universe. I covered Strange Tales #110 way back in Spotlight #26 so I wanted to come up with another Doctor Strange comic we can bank on in the coming months and years. Thus I present to you this week's Undervalued Spotlight, Marvel Premiere #3.
Next to Strange Tales #110 the next books on the collectibility list for Doctor Strange seem to be the 1968 Doctor Strange #169 and the 1974 Doctor Strange #1.
I don't think we pay enough attention to Marvel Premiere #3, it boasts a great Barry Windsor-Smith cover as well as a twenty-page Barry Windsor-Smith story and art.
Compared to the hot Doctor Strange #1 (1974) I'd say the Marvel Premiere #3 is the one to have, it predates Doctor Strange #1 by two years and it's 20 cent price tag and it's classic Marvel square picture frame cover assures collectibility and it just oozes that early Bronze Age feel.
The markets favour the 1974 Doc Strange #1, a Marvel Premiere #3 CGC graded 9.6 recently sold for #337 while a 9.4 sold for $165. while the #1s were fetching north of $400. The relative scarcity is quite severe for Marvel Premiere #3, as of this post there are 311 Doctor Strange #1s graded at CGC 9.6 or better while for Marvel Premiere #3 there are only 40 CGC graded at 9.6 or better.
The scarcity disparity is drastic, the 20 cent picture frame cover is fantastic, the jet black cover adds to the high-grade appeal.
I see Marvel Premiere #3 working some magic and working its way up in value.
The 48th Overstreet price breaks for this book are $57/$111/$165 in the 8.0/9.0/9.2 grade splits.
Strengths that make this comic a good long-term investment are:
Doctor Strange series begins
Great Barry Windsor-Smith cover