Fantastic Four #28, Marvel Comics, July 1964.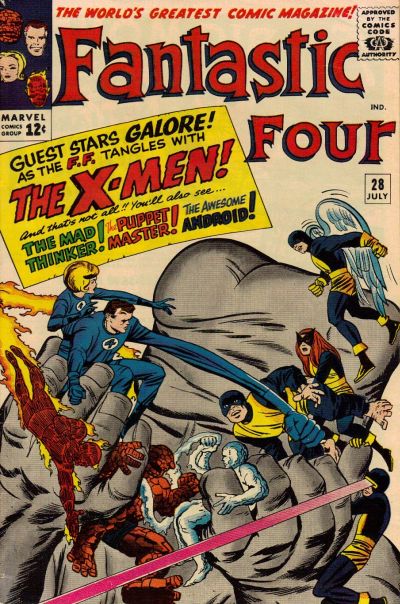 On the back issue comic market the two most speculated Marvel titles for a while now have been the Fantastic Four (FF) and the X-Men, and why not, a massive fan base eagerly awaits both franchises' assimilation into the Marvel Cinematic Universe. The sky's the limit when Marvel does movies and both franchises stand to gain, though I'll say that the FF is a guaranteed improvement if we're measuring off of their current cinematic street cred.
This week I thought I'd shine the Undervalued Spotlight on the book that featured the first meeting of these two Marvel mainstays, Fantastic Four #28.
Fantastic Four #28 boasts the creative dream team of Stan Lee and Jack Kirby and features a strong Jack Kirby cover, the cover is white which makes clean high gloss copies look great.
Fantastic Four #28 is also a very early X-Men appearance, July 1964 is the same month X-Men #6 came out. A very early cross over like this is hard to ignore for X-Men fans, just ask Spidey fans how badly they'd like a copy of Strange Tales Annual #2.
The book sells regularly on the markets and I'd say it flat at best, a CGC 9.4 copy went for a very cheap $1800 earlier this year, a CGC 9.2 went for a more respectable $1695 while a CGC 8.0 sold for what I think is a deal at $436, finally there was a recent CGC 6.0 that sold for $126, well under Guide.
I think there is something to Fantastic Four #28, it's a 1964 Marvel, early days, the issue is early in the FF run, when the FF mattered and in the era where it is most collected. The early X-Men appearance is a strong draw as well, this is pretty well the X-Men appearance outside the title that should be #1 on most people's lists.
I like a solid CGC 8.0 with high gloss and White pages, it could be bought for a little over $400 and it buys you into a very cool piece of comic book history.
The 48th Overstreet price breaks for this book are $150/$390/$870/$1350 in the 6.0/8.0/9.0/9.2 grade splits.
Strengths that make this comic a good long-term investment are:
A 1964 Marvel embedded in the highly collected early Fantastic Four run
The first meeting of the X-Men and the Fantastic Four
Very early X-Men appearance, the same month as X-Men #6