Amazing Spider-Man #10, Marvel Comics, March 1964.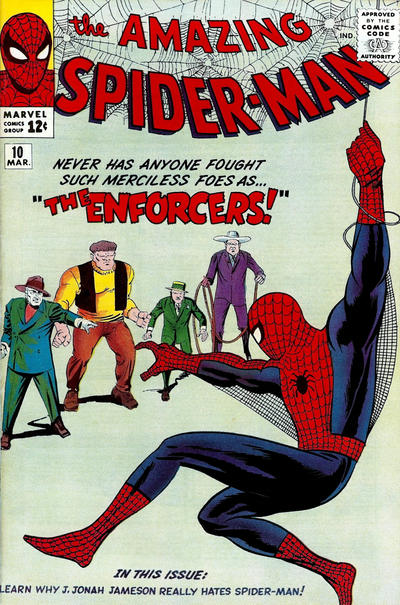 This week I wanted to find a nice combination of quality and value, I was looking for something stable, on firm ground, but that still had room for appreciation. I'm pretty sure I found it in this week's Undervalued Spotlight, Amazing Spider-Man #10.
I didn't realize this until I checked against my master list but this is only the second Amazing Spider-Man (ASM) issue under #30 that has been featured over all these years on the Spotlight, ASM #3 is the other I did a few years back.
Amazing Spider-Man #10 features the first appearance of Big Man and the Enforcers. I think the Enforcers are beyond cool and underused in the Marvel U. I wish my pals in high school were named Fancy Dan, Ox and Montana! These 3 bad boys are assassins for hire working for crime boss The Big Man to gain territory for the Big Man's crime empire, of course, they forgot to factor in the amazing Spider-Man.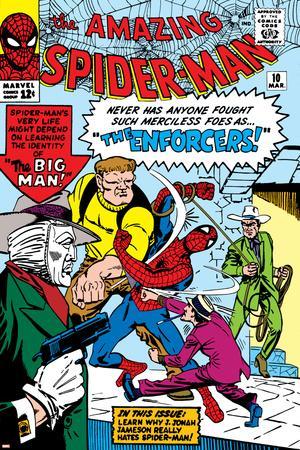 I like the cover to Amazing Spider-Man #10 and I like the notoriety that comes with it. On the cover, Enforcers are drawn and inked by Steve Ditko. The Spider-Man figure though is pencilled by the great Jack Kirby, with inking by Dick Ayers. The original, rejected cover to Amazing Spider-Man # 10, by Steve Ditko, is included for your perusal. Kirby didn't draw Spidey very much in the early days, Amazing Fantasy #15, Strange Tales Annual #2, Tales to Astonish #57 are the only ones I can think of pre-1965.
In the Overstreet Guide, Amazing Spider-Man #10 is the second cheapest Spidey in the #1-10 run, only $50 ahead of the lowly ASM #8 and if you factor in ASM #10's stronger cover and the obvious bonus of being a first appearance issue you get the sense of value. It's a good time to remind you that Amazing Spider-Man is the most collected run in the hobby with the #1-10 run being the uber sub-run within the run.
Most recent sales across the high grades all seem soft, a CGC 8.0 last sold for $780, a CGC 9.2 last sold for $2,100, a CGC 9.4 last sold for $2,730 while the last CGC 9.6 fetched a disappointing $4,320.
Grab yourself a copy that is crisp and tight, well centred with high gloss!
The 48th Overstreet price breaks for this book are $294/$784/$1767/$2750 in the 6.0/8.0/9.0/9.2 grade splits.
Strengths that make this comic a good long-term investment are:
First appearance of Big Man and the Enforcers
Embedded in the coveted #1-10 Amazing Spider-Man run