Forbidden Worlds #73, ACG, December 1958
American Comics Group (ACG) editor Richard E. Hughes contributed much to comic books. Hughes was already a veteran of the industry in 1958 (he was ACG editor at this time).  The early 1940s characters Fighting Yank and Black Terror were among Hughes' more popular creations. A prolific writer, Hughes used many pseudonyms. The most famous of these 'pen names' would be Shane O'Shea (though my favorite is Ace Aquila). It was Shane O'Shea that received the writing credits for the Herbie Popnecker story in Forbidden Worlds #73. Art credits belong to artist Ogden Whitney. Whitney was a hard drinking veteran (his first credit was in 1939 when he drew a story in Adventure Comics) who always aspired to get out of comic books and find work as a commercial artist. Whitney drew War, Humor and Sci-Fi titles through the 1950s.
Herbie Popnecker is one of the most unique comic book characters ever created. Thanks to some 'magical' lollipops this short, fat kid turns out to be one of the most powerful beings alive. Over time we discover that Herbie can fly (he actually just walked in the air), talk to animals (they all seemed to know him), become invisible, and later, travel through time. Herbie did all this in the most emotionless, slacker fashion. Nobody, including Herbie's dad Pincus Popnecker, was ever aware of just how powerful a being Herbie really was. To all Herbie was a fat lazy kid that could never amount to anything.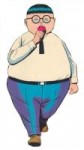 Herbie was irresistible to women, and it was said that he was more powerful than the Devil. Herbie appeared in a total of 5 Forbidden World issues, #73, 94, 110, 114 and 116 then finally got his own comic in April 1964. The series ran 23 issues until February 1967, shortly before ACG went out of business. In Herbie #8 (3/65) Herbie became the costumed superhero Fat Fury (though he didn't really gain any powers above the ones he already had). In 1965 the Marvel superhero revolution was well under way and even Herbie could not ignore it. Alan Moore has stated that the Fat Fury as his favorite superhero (Alan Moore is one messed up dude).
Herbie was way ahead if his time. The late 50s was not the kindest era to introduce such a drastic counterculture anti-hero (but it was the era that needed Herbie the most). The whole lollipop/drug trip tie in would be picked up by the more rebellious youth of the 1960s but even for the 1960s Herbie was too far out there a concept. Herbie won the Alley Award (Alter Ego fanzine fan award) for Best Humor Comic in 1964 and 1965. I would have like to see Herbie picked up by the underground comic book scene of the late 60s.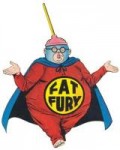 The Overstreet Price Guide shows $256/$428/$600 as the splits at the 8.0/9.0/9.2 grades.
Strengths that make this comic book a good long term investment are:
– Character has huge cult following and is an important anti-hero creation
– A very savvy youth culture will eventually adopt Herbie as one of their own
– A lot of development potential for this character, Dark Horse has successfully collected the original issues (Volume 1 was recently awarded the Eisner Award for best humor publication)
– Reasonably low guide prices for high grade copies make this book an affordable investment
Walter Durajlija is an Overstreet Advisor and Shuster Award winner. He owns Big B Comics in Hamilton, Ontario, Canada