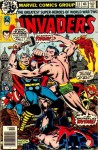 Invaders #33, Marvel Comics, October 1978
What a cover! What an issue! "A Time of Titans" tells the tale of Thor fighting along side Adolf Hitler and the Nazis (all part of a Hitler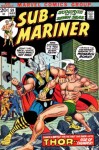 scheme to get all the Gods of Asgard to help him to conquer the world). Thor is in Russia trying to kill Josef Stalin. Sub-Mariner and his Invaders somehow manage to save Stalin. Thor eventually gets wind of Hitler's scheme (thanks to an in disguise Doctor Doom) and all is saved.
This is great stuff people!
The Overstreet Price Guide shows $8/$10/$12 as the splits at the 8.0/9.0/9.2 grades.
Strengths that make this comic book a good long term investment are:
– Guest starring Josef Stalin, Victor von Doom, Thor and Adolf Hitler!
– A classic Thor/Sub-Mariner battle cover (I think it's even better than the Sub-Mariner #59 cover)
– $12, are you kidding me!
Walter Durajlija is an Overstreet Advisor and Shuster Award winner. He owns Big B Comics in Hamilton, Ontario, Canada