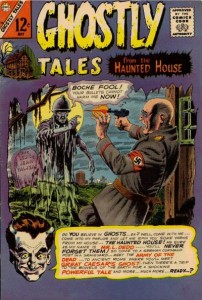 Ghostly Tales #55, Charlton Comics, April-May 1966
Charlton Comics took a run at the Blue Beetle title (issues #50 – 54) by displacing their long running Unusual Tales title (#1-49) but found the super hero racket crowded and tough. They switched back to the horror/mystery format with Ghostly Tales #55, a move that paid great dividends for years to come.
Ghostly Tales #55 introduces Dr. M.T. Graves, the host of the comic and on occasion a participant in the stories (and an inspiration for names like I. P. Daley I'm sure). This first story was a 3 pager called Dr. Graves the Ghost Fighter, written and drawn by Ernie Bache. Ghostly Tales #55 also contains a 7 page story drawn by Steve Ditko called Great Caesar's Ghost.
The Dr. Graves format borrowed from the successful E.C. Comics premise of using hosts like The Old Witch (Haunt of Fear), The Vault Keeper (Vault of Horror) and the Crypt Keeper (Tales from the Crypt) to narrate the happenings of the comic book. I'll argue that DC's move to title hosts Cain (House of Mystery #174) and Abel (House of Secrets #81) in the 1969 revamping of those titles was influenced by the, what would have then been, current success of Dr. Graves.
The Overstreet Price Guide shows $45/$73/$100 as the splits at the 8.0/9.0/9.2 grades.
Strengths that make this comic book a good long term investment are:
– Origin and 1st appearance Dr. Graves – carried his own title for 75 issues
– Steve Ditko art
– Should be considered a 1960s Charlton key
– Only 3 graded CGC Universal copies
Walter Durajlija is an Overstreet Advisor and Shuster Award winner. He owns Big B Comics in Hamilton, Ontario, Canada