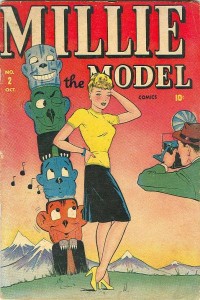 Millie the Model #2, Timely Comics, October 1946
When most of us think of the Blonde Phantom we think of the attractive blonde crime fighter that first appeared in Timely's All-Select #11, we think of secretary Louise Mason, we think of the curvaceous blonde member of the All-Winners team and I'm sure we think of a lot of other stuff too. I'm also pretty sure very few of us think Millie the Model.
Well it turns out Millie was actually the first Blonde Phantom and may have inspired the real Blonde Phantom. In Millie the Model #2 Millie Collins slips on a mask and a tight fitting evening gown and becomes the Blonde Phantom to sell Blonde Phantom perfume.
In researching the character it seems All Select #11 hit the stands after Millie the Model #2. The dates are confusing (Fall/46 for All-Select vs. Oct/46 for Millie) but the Overstreet Comic Book price guide does list Millie the Model #2 as pre-dating All Select #11. Thus the first true appearance of the Blonde Phantom really is Millie the Model #2!
The Blonde Phantom character went on to become very popular and appeared in a total of eight Golden Age titles as either the star or a backup — All-Select, Blonde Phantom, All-Winners (second series), Marvel Mystery, Sub-Mariner, Sun-Girl, Namora and Blackstone the Magician Detective. I'll even go as far as saying her success lead to Fox grabbing and publishing Phantom Lady (a dormant Quality Comics character). It was Artist Matt Baker's take on Phantom Lady that revolutionized and defined the whole Good Girl Art genre.
OK fine, I known that an acrobat dressed up as Captain America does not make him actually Captain America (an acrobat donned the Cap outfit in Strange Tales #114 published in Nov. 1963, a full 4 months before Cap resurfaces in Avengers #4 published in March 1964). So I agree that Millie dressing up as the Blonde Phantom does not make her the real deal but without Millie slipping into something less comfortable we may not have had a Blonde Phantom and without the Blonde Phantom we may not have had a Phantom Lady and without Phantom Lady Car and Driver Magazine may have ended up the only place to see a "headlight cover"
The Overstreet Price Guide shows $271/$461/$650 as the splits at the 8.0/9.0/9.2 grades.
Strengths that make this comic book a good long term investment are:
– 1st actual appearance of a character named The Blonde Phantom
– Millie #2 at $650 in high grade looks cheap next to the $4,250 the guide values a high grade All-Select #11
– May have inspired a whole genre!
– The Millie the Model title alone is extremely collectible and this issue is considered one of the keys to own
– No Millie = no Chili
Walter Durajlija is an Overstreet Advisor and Shuster Award winner. He owns Big B Comics in Hamilton, Ontario, Canada