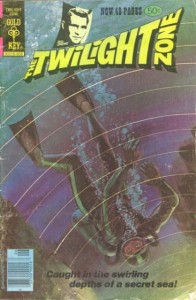 Twilight Zone #84, Gold Key, June 1978
There are many collecting strains within the comic book collecting hobby. First appearances, first issues, publishers, titles, battle covers, love triangle covers, risqué covers, comics mentioned in SOTI, variant prices on covers, variant covers, etc, etc, etc. Another popular collecting strain focuses on the creators. Good artists and writers earn large and devoted followings over their careers.
First published works by the likes of Jim Steranko, Jim Lee, Alex Ross, John Romita and etc. are all denoted in the Overstreet Comic Book Price Guide and all trade for a premium compared to the issues around them. Fans and collectors are seeking out these issues.
Not many creators can even hope to approach the importance of Stan Lee or come close to attaining the God-like reverence of the late great Jack Kirby. Not many, but there are a few, and Frank Miller is one of the few. Frank Miller's first published work in comic books was his artwork in the story "Royal Feast" in Twilight Zone #84, published by Gold Key in June 1978.
Frank Miller is a comic book industry giant, he's a living legend. Miller's body of work is stunning. Batman: Year One (1987) and Batman: the Dark Knight Returns (1986) completely changed the direction of the whole Batman property. The Daredevil: Born Again story from 1986 (Daredevil #227 – 233) has often been called Marvel's greatest story arc!
Frank Miller waltzed into DC and totally revolutionized their most popular character. To this day all Batman stories are measured against Miller's groundbreaking work from 80s. At around the same time Miller takes a second rate Marvel character and produces some of the best stories Marvel has ever published (lifting Daredevil into the A list of Marvel characters).
Feeling limited by what he saw as censorship at Marvel and DC Miller took his talents over to Dark Horse Comics. Over the next decade he produced the comic book masterpieces Sin City and 300. Both of these properties went on to become huge feature film successes. Sin City and 300 pushed the boundaries of comic book storytelling and demonstrated the formats potential for successful adaptation into other media.
The 40th edition of the Overstreet Price Guide shows $30/$48/$65 as the splits at the 8.0/9.0/9.2 grades.
Strengths that make this comic book a good long term investment are:
Twilight Zone is a collectible title, the late 70s issues are scarcer and in demand
Collecting creators is a popular collecting focus
High grade CGC Census as of this post only consists of 4 copies graded at 9.2
Frank Miller's important contributions will only grow in stature as time goes by