Hansi, the Girl Who Loved the Swastika nn, Spire Cristian Comics, 1973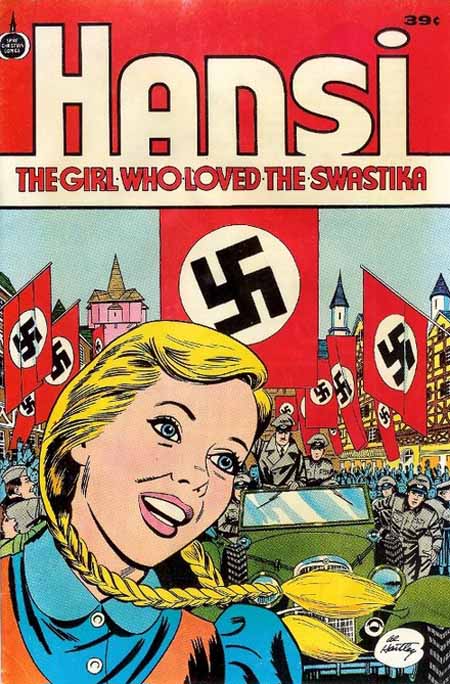 In 1972 a guy named Fleming H. Revell started up a line of religious and inspirational comics called Spire Christian Comics. The line featured many biographical stories including Johnny Cash, then Dallas Cowboys coach Tom Landry and others. Al Hartley, who was an Archie Comics writer and artist at the time, wrote and drew most of the comics for Spire Christian. Due to this Archie connection, Hartley was able to get permission to use Archie for Spire comics and produced about 20 Archie themed issues. Archie Gets a Job and Archie's One Way are two notables.
The whole Spire Christian Comics line is very collectible and with titles like Tom Skinner's Up from Harlem and God's Smuggler it's easy to see why.
As cool as all these comics listed above sound they pale in comparison to the cult status acquired by Hansi, the Girl Who Loved the Swastika. Hansi has become the Spire Christian comic to own. The 1973 issue with the 39 cent cover price has turned out to be much more collectible that the 1976 version which confusingly possesses both a 39 cent and 49 cent cover price.
Hansi is supposedly the biography of one Marie Anne Hirschmann, an orphaned Czech girl who was taken in by her Nazi 'liberators' and trained to become a youth leader. Her love and devotion to Adolf Hitler landed her in a Russian prison camp. One day she miraculously just walked out of the prison camp and ended up in West Germany where she eventually turned to Jesus Christ.
The comic itself has a dramatic cover and holds back nothing with depictions of rape scenes in the Russian prison camps.
The Overstreet Price Guide shows $32/$51/$70 as the 8.0/9.0/9.2 price splits.
Strengths that make this a good long term investment are;
– A beautiful blonde girl smiling with Swastikas waving freely in the background will catch anybody's attention
– Only 8 copies exist with a CGC grade of 9.2 or higher, this comic is scarce
– Not seen in the marketplace, according to GP Analysis the last CGC copy sold back in Feb. 2006, a 9.2 for $200
– The most sought after book within a sub genre (Spire Christian) that will become more and more collectible
 – A very powerful reference to the defining event of the 20th century
Walter Durajlija is an Overstreet Advisor and Shuster Award winner. He owns Big B Comics in Hamilton, Ontario, Canada.