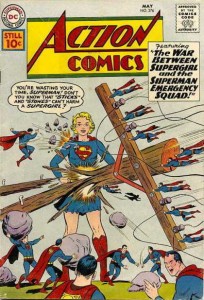 Action Comics #276, DC Comics, May 1961
I gotta get a copy of this comic book.
Action #276 features the 6th appearance of the Legion of Superheroes.
Action #276 also features the 1st appearance of Luornu Durgo a.k.a. Triplicate Girl. She, like all people from her planet with 3 suns, could split into three identical bodies. She becomes Duo Damsel after a computer made by Braniac 5 kills one of her bodies.
Action #276 also features the 1st appearance of Bouncing Boy. Bouncing Boy? Yeah, Bouncing Boy! Our B Boy has the power to inflate like a ball and bounce. Pretty cool huh?
Duo Damsel and Bouncing Boy end up getting married over a decade later in Superboy #200 (an interesting wedding night indeed).
Action #276 also features the 1st appearances of Braniac 5, Phantom Girl, Sun Boy and Shrinking Violet. It's also the issue that Supergirl joins the Legion
The very early 1960s were heady days for DC Comics. We were still waiting for Fantastic Four #1 to come out and change everything. And man did things need changing. The censorship of the Comics Code was resulting in some heavy schlock and DC seemed to have a lock on superhero schlock. DC's Legion of Superheroes seemed to be a cosmic breeding ground for unbelievably terrible superhero ideas. So terrible that you can't help but want to collect them.
The 40th edition of the Overstreet Price Guide shows $216/$351/$485 as the splits at the 8.0/9.0/9.2 grades.
Strengths that make this comic book a good long-term investment are:
1st appearances galore
6th Legion and a must for Legion fans
Two words; Bouncing Boy
1961 puts it early in the Silver Age and very collectible
All this and Superman too!