Green Lantern #7, DC Comics, July/August 1961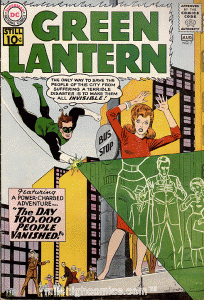 Green Lantern #7 features the origin and 1st appearance of Sinestro. The character was created by writer John Broome and artist Gil Kane. Thaal Sinestro started out as a Green Lantern and according to the comicbookdb.com he was one of the better ones. Thaal's obsession with power leads him to become the dictator of his home planet of Korugar and things only get worse from there.
Sinestro's stock as a super villain has skyrocketed in recent years, he is currently listed as the 15th greatest comic book super villain of all time by IGN, just ahead of Black Adam and just behind the Red Skull. The recent "Sinestro Corps War" story arc in Green Lantern was hugely successful and helped propel the Green Lantern titles to the top of the comic book sales charts. Much credit goes to the superior story telling of Geoff Johns. At any rate Sinestro, like any super villain worth his salt, has used this recent success well and worked himself in as the main villain for the big Green Lantern movie hitting cinemas in 2011.
A successful Green Lantern movie could bode well for Sinestro's long term stock. The X-Men movies helped elevate Magneto's stature and I'm sure DC is hoping the same for Thaal Sinestro.
I realize the high end market for this book has been piping hot for a while, a CGC 9.0 copy just sold for $2800, but I want to remind everyone that there are a lot of mid grade copies of this book still out there in the hands of original collectors and weekend dealers and these could still be negotiated at more reasonable prices.
The 40th edition of the Overstreet Price Guide shows $314/$607/$900 as the splits at the 8.0/9.0/9.2 grades.
Strengths that make this comic book a good long-term investment are:
1st appearance of a major DC villain
Early 1960s DC comics are highly collectible and scarce in higher grades
Sinestro to be the main villain in the new Green Lantern movie
Scare in higher grades – of the 77 with Universal CGC grades as of this post only 4 are graded 9.2 or better