Our Army at War #83, DC Comics, June 1959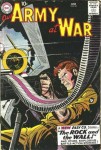 The War Comics genre was an industry unto itself in the 1950s and 60s. Every major comic publisher had war titles. Charlton, Atlas, Fawcett, Dell and all the others drew heavily on the great adventure stories that could be set against the very recently won Second World War, the noble war. By the late 1950s DC Comics was the leader of the pack with 5 popular titles selling each month. All American Men of War (117 issue run), G.I. Combat (245 issue run), Our Army at War (422 issue run), Our Fighting Forces (181 issue run) and Star Spangled War Stories (268 issue run) were the envy of the industry.
Of the hundreds of characters to come out of all the war comics one has emerged as the definitive heroic American soldier and that of course is Sgt. Frank Rock. Some may be quick to mention Marvel's Sgt Fury. Though Sgt. Fury and his Howling Commandos had a good run (167 issues) most comic fans know Fury better as his second incarnation, Nick Fury, the Agent of Shield master spy.
G.I. Combat #68 published in January 1959 mentioned a character named 'The Rock', a few months later a Sgt. Rocky appeared in Our Army at War #81. Both these comics are considered Sgt. Rock prototype issues. The comic considered Sgt. Rock's first appearance is Our Army at War #83.
The Overstreet Price Guide shows $540/$1575/$3038/$4500 as the 6.0/8.0/9.0/9.2 price splits.
Strengths that make this comic book a good long term investment are:
– The most important character to come out of the very large and very important war comics genre
– DC War Comics are extensively collected and this comic is one of the holy grails for these collectors
– Impossibly scarce in higher grades – there are only 11 above 6.0 in the CGC universal grade census
– Almost never comes to market, especially at CGC 6.0 and above
Walter Durajlija is an Overstreet Advisor and Shuster Award winner. He owns Big B Comics in Hamilton, Ontario, Canada