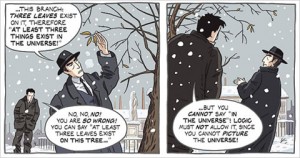 Logicomix: An Epic Search For Truth, a Greek comic book biography on the life of philosopher Bertrand Russell is currently No 1 on the New York Times Bestseller List – Paperback Graphic Novels (putting it ahead of Watchmen, Long Halloween, Arkham Asylum and the latest Walking Dead)and is the 4th bestselling graphic novel on Amazon.com.
It's also the most internationally well-received edition of a Greek book of any sort since Xenophon of Ephesus.
The book intertwines Russell's theories of philiosophy, sexual free thinking, math and logic, with his attempt to stave off  mental illness, while the rise of the Nazi Party begins to threaten many of their lives. And a whole bunch of womanising to boot.
Logicomix was co-written by author Apostolos Doxiadis and Berkeley professor Christos Papadimitriou, with art by Alecos Papadatos and Annie Di Donna who drew on location in the places where the book is set. You can check out the official website here.