Go-Go #1, Charlton Comics, June 1966
Go-Go was a 1960s Charlton comic book series that lasted 9 issues. The title tried to cash in on the pop culture explosion of the time with each issue featuring pin ups and tidbits on some of the hot musical acts of the day. The Miss Bikini Luv character introduced in this 1st issue was the hip teen that tied everything together.
The 40th edition of the Overstreet Price Guide notes appearances by the Beatles, Elvis, Rolling Stones, Bob Dylan, Sonny and Cher and Frank Sinatra.
This issue also boasted Jim Aparo's 1st published work. Aparo was a workhorse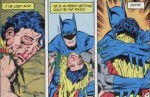 for Charlton and DC Comics over the next 3 decades.  Titles he worked on included Charlton's The Phantom as well as DC's House of Secrets, House of Mystery, Brave and Bold, Phantom Stranger, Detective and Batman. He will probably be most remembered for penciling Starlin's "A Death in the Family" story arc in Batman #426 to 429.
The 40th edition of the Overstreet Price Guide shows $54/$90/$125 as the splits at the 8.0/9.0/9.2 grades.
Strengths that make this comic book a good long-term investment are:
Comic book great Jim Aparo's 1st published work
Miss Bikini Luv – nuff said
Beatles, Elvis, Rolling Stones, Bob Dylan, Sonny and Cher, Frank Sinatra
Great piece of pop culture history