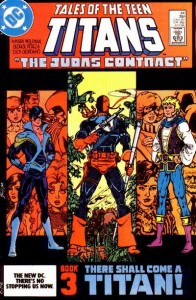 Tales of the Teen Titans #44, DC Comics, July 1984
Here's a little gem from 1984. Tales of the Teen Titans #44 is an important little comic book. For starters the book features the origin of the dreaded assassin for hire Deathstroke. That alone should make the book worth more than the paltry $3.50 the Overstreet Price Guide has it at. Luckily this book keeps on giving as within this issue we see Dick Grayson a.k.a. Robin turn into Nightwing. This is no Captain America turning into the nobody that is Nomad. This is our beloved Robin, the Boy Wonder turning into Nightwing, a character very prominent in the today's DC continuity.
The book boasts top notch creators with Marv Wolfman and George Perez sharing writing while Mr. Perez doing the pencil work and the fabulous Dick Giordano doing the inking.
The Dick Grayson Robin of course burst onto the scene as Batman's sidekick in Detective Comics #38 (Apr/40). DC continuity saw the Robin character grow into maturity through his leadership of the Teen Titans. In a bold move by DC they have Grayson outgrowing the Robin sidekick role and wisely give him his own identity. Nightwing continues to lead the Teen Titans and later goes on to captain that rag tag gang of misfits, the Outsiders.
Its funny how smart moves in the past always seem to lead to opportunities in the future. In 1994, a full decade after outgrowing the Robin role Grayson is asked by Bruce Wayne to assume the role of Batman while Wayne recovers from the broken back delivered by the villain Bane. This simply would not have been in play had they left Grayson as a junior underling the whole time. Nightwing fills in as Batman only temporarily but again this call up stint surely led to Grayson's return to the Batman role in the aftermath of Grant Morrison's recent Batman R.I.P. story arc.
Tales of the Teen Titans #44 set things in motion that are still affecting the DCU today.
The 40th edition of the Overstreet Price Guide shows $3.50 as the price for a copy graded at 9.2.
Strengths that make this comic book a good long-term investment are:
Robin retires after 44 years working for the same guy, who wouldn't

This issue allows other creators to reap the benefits of the changes decades later

Nightwing is born

$3.50 for such an important comic book? Please