Tales of Suspense #52, Marvel Comics, April 1964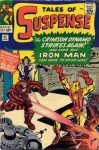 The Cuban Missile Crisis of the early 1960s brought the Cold War with the Soviet Union to America's kitchen tables and its workplace water coolers. Everyone was now talking about the Russians and nuclear war. During this time James Bond had struck a cord with movie goers with the success of 1962's Dr. No and 1963's From Russia with Love. Spies were all the rage and comics, having always been a great reflection of current society, answered the call with the creation of The Black Widow. The Black Widow a.k.a. Natasha Romanoff was a femme fatale Soviet Spy who first appeared in April 1964 in Marvel's Tales of Suspense #52.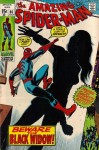 The Black Widow appeared for the first time in her trademark skintight black costume in Amazing Spider-Man #86 (July 1970). She starred in her own series in Amazing Adventures #1-8 (August 1970 September 1971). Black Widow famously co-starred in Daredevil #81–124 (November 1971–August 1975) and then was a member of the super-team The Champions, which ran 17 issues (October 1975–January 1978). She's also appeared in countless mini-series' and is currently a SHIELD agent (or is she?).
Black Widow will be featured in the upcoming 2010 Iron Man sequel, Iron Man 2 where she will be played by the very lovely Scarlett Johansson.
The Overstreet Price Guide shows $246/$461/$675 as the 8.0/9.0/9.2 price splits. When you consider that Tales of Suspense #50 (the first Mandarin) guides at 9.2 at $600.00 you get a sense at how undervalued the Black Widow issue is. To prove my point a CGC graded 9.2 copy sold at auction in September 2009 for $2000.00
Strengths that make this comic book a good long term investment are:
– From the very early Silver Age Marvel era and a must for Marvel key collectors
– Part of a highly collected Silver Age Marvel title that showcased an A-list hero (Iron Man in Tales of Suspense)
– Very scarce in higher grades – there are only 17 at 9.2 or above in the CGC universal grade census
– The character is about to get major exposure appearing in the new Iron Man movie
Walter Durajlija is an Overstreet Advisor and Shuster Award winner. He owns Big B Comics in Hamilton, Ontario, Canada