Welcome to the very first installment of the ComicBookDaily Progressive Shop Profiles! Comic shops often get a bum rap, they're seen as dingy little holes in the wall that you wouldn't want to take your mother into. It's ComicBookDaily's mission to dispell this false myth by highlighting some truly amazing comic book stores! In fact progressive comic book stores are often on the leading edge of innovative retailing, offering unparrallelled product knowledge, unbeatable service and a truly rewarding shopping experience. We've designed a set of finely crafted questions, aimed them at these great stores and now pass along the useful information to you comic fans out there.
Kicking off our first profile is Happy Harbor Comics in Edmonton, Alberta; winner of the 2007 Joe Shuster Award for Outstanding Comic Retailer! Answering our questions for us is Jay Bardyla; the owner and founder of Happy Harbor.  So read on and enjoy!
How was the location of Happy Harbor decided and do you like it?
The final location for our main store was found on a bit of a fluke. We knew the area we wanted to be in; an up and coming retail strip on the edge of downtown Edmonton. But while looking at a few spaces, one landlord mentioned, almost in passing, that he had a bigger, unfinished space. Unfinished it was, but it had a full wall of windows for lots of natural light, great space to expand, washrooms, parking and more. It took some work but it had all the essential elements to get things going.
How long has Happy Harbor been in business for?
10 years this past May.
Do you take part in Free Comic Book Day?
We host the largest and most entertaining FCBD in Western Canada. We've had local and professional artists and writers, live action events like Wrestling and Roller Derby, giveaways, costumes and after parties. If you're going to celebrate the medium, you gotta do more than just put books out on a table!
Does Happy Harbor feature a back issue section? If so, what sort of areas do you focus on?
Yes we do. We don't focus on anything specific. We just assess each collection that comes through to avoid too much duplication and ensure decent quality.
What do you think are the strongest assets of your store?
Layout, selection, staffing, accessibility, events – we try really hard to make all the assets of business, any business really; strong but everything can always use improvement.
Do you offer a subscription service and what sort of incentives do you offer subscribers?
We do offer a subsription service and our incentives focus primarily on making sure customers are aware of what's coming and making sure they get what they want. We have an online pre-ordering system, sales tracking and more to assist customers so they have enough knowledge needed to enhance their hobby. Service goes beyond just bringing in product and we do as much as we can to make this hobby more vital and worthwhile to them. We do also look at giving customers discounts on their files after a few months once we've established their buying pattern and volume.
What approach do you think that Happy Harbor has that sets it apart from other comic book stores?
We do not assign customers numbers. They are not numbers. They are people and people we try to get to know so that way when they are looking for something new or a friend of family member wants to get them a gift, we have the information necessary to "make their day".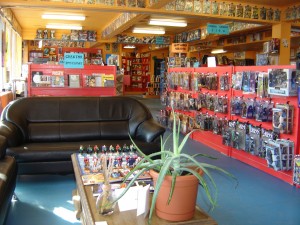 We have a colour scheme that is fun, friendly and inviting so if you're 5, 50 or 105 you can walk in and feel comfortable and happy. We also have plenty of space for people to move around the shop.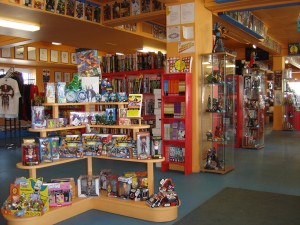 We greet every customer who comes through the door and we come out from behind the counter to deal with customers as often as possible.
We host numerous charity and community type events that bring comic fans, collectors and reader of all levels together. Plus we go out into the community, into schools and libraries, and talk to kids about comics; how they are made, career opportunities and a bit of history. With so many of our customers being artists and writers, we have an endless supply of volunteers that help us give back to the communities. We also have an account and recommendation system for schools and libraries. We plan vacation packages to comic cons. We sell locally made comics and organize anthologies for people to not only submit to but also host workshop times that allow creators to better their works. And more!
We feel that it's these qualities (and more) that awarded us the Harry Kremer Outstanding Canadian Retailer Award at the 2007 Shusters and has given us 4 Spirit of Retailing nominations at the Eisners, finishing in the final 4 in 2009.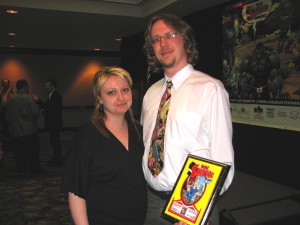 Are there any creator signings or visits to the store that you would like to boast about?
Being where we are, there aren't too many "pros" living nearby, so it's a bit of a challenge, but this past May on FCBD (which was also our ten year anniversary) we had a return visit from writer Gail Simone, the super talented Ty Templton, the up-and-comer Steve Rolston, all wrapped up with a taping of the Canadian TV show "Ed N Red's Night Party" starring Ed the Sock and uber-geek Liana K along with local rock band 8 Ball Last! It was a wonderful, but long FCBD (a 14 hour celebration).
We've also hosted signings by Derek McClough (Stagger Lee), Trina Robbins, William Stout, Ken Stacey and others.
What are the various promotions you put on every year, whether it be Boxing Day or Anniversary sales and what do these promotions entail?
FCBD obviously,24 Comics Day each fall, which we host as a fundraiser for Literacy Alberta (we've raised over $10,000 in the past 4 years) & The 12 Hour Comic Challenge each spring in support of Edmonton Big Brothers Big Sisters. Twice a month we hold a "Comic Jam" for local creators; Comic Talks, held as part of the Pure Speculation Festival each fall where guests from all walks of the industry (comic pros, professors, etc) discuss numerous facets of the industry, our Tales from the Harbor book series that provides everyone a chance to tell a story and see it published, our San Diego Comic Con Land Cruise which loads a bus up with comic fans on a 12 day trip to San Diego with some great stops (Las Vegas) along the way and we try to limit the number of sales we have each year to 2 or 3 and we try to move them around so people never get "too" comfortable thinking a sale is just always around the corner.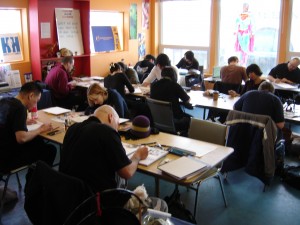 We've also hosted several book lunch parties, fundraisers for local political candidates, sponsored a stage production for the Edmonton Fringe Festival, hosted the website lunch party for said show, movie nights, rock band parties, even a whisky tasting and more.
Our biggest promotion this year, after our FCBD event, was the engagement party we threw for Archie and Veronica in August! Look-a-likes, a huge cake and lots of eager fans who haven't been in a comic store in years (or ever!) made it a massively successful event.
Do you do special orders for customers in the monthly Previews catalogue?
It's a main focus. We even put an order form on our website so people can place orders from the comfort of their own home and get a confirmation record of their order. It also helps us as their orders go directly into our database system so there's less chance of human error.
What are the future plans for the business?
To think of new ways to inspire more people to read, write and draw comics.
Owner Profile: Jay Bardyla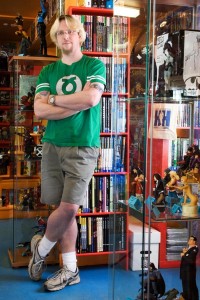 What made you decide to get into comic book retailing and what is your comic book background?
I've been reading since I was 8 and started working at my first store when I was 16. Over the years working for others and having endless issues trying to incorporate my vision to help improve their stores, I just decided to do it myself. Whole different set of issues but ultimately more satisfying knowing your successes and failures are all your own.
What's the one title you wish you were selling more of and why?
Tough to say. The books I like are the best selling titles in our company; Justice League, Justice Society, Buffy, Green Lantern, heck I even sell a ton of Booster Gold! The staff behind any counter holds a tremendous amount of influence over their customers and I see it everyday. If there's one book I wish I had fed more people on sooner it would have been DC's Manhunter. By the time I hooked a few dozen more people on it, it was too late.
What direction do you think the Comic Book Industry is moving in and where do you think we will be 5 years from now?
With all the crossing over into other media, the industry will just continue to gain more exposure and more fans over the next five years, but only if the publishers begin to listen to the retailers (you know, the guys on the front lines who get a thousand times more feedback from customers than you'll even find on message boards) and do more to make their products more accessible to a broader audience. Fewer titles, better labeling for content (yes, ratings), chronology and lower prices are only a few of things necessary to ensure not just stability but growth. Especially for the demographic of the non-comic comic fan. We spend far too much time catering to the hardcore audience and so little on nurturing new readers.
Happy Harbor has all the makings of fantastic store with an active community of readers, so if you're in the area or even if you're not (roadtrip!) stop in!